Audio • Bits & Breaks • Country Prep • Datebook • Datebook Tomorrow • Entertainment • Fun & Games • Image of the Day • Joke of the Day! • Last Minute Items • News & Nuggets • News Attack • Number for the Day • Television • Video of the Day • Wacky-But-True 
---
DATEBOOK: DECEMBER 3, 2014
This is day 337 of 2014. There are 28 days remaining.
BIRTHDAYS
• Ozzy Osbourne is 66
• Mickey Thomas of Jefferson Starship is 65
• Daryl Hannah is 54
• Julianne Moore is 54
• Brendan Fraser (Mummy films) is 46
• Brian Bonsall (Family Ties) is 33
• Amanda Seyfried is 29
IT HAPPENED TODAY
• 1805: The Lewis and Clark Expedition marks its explorations from the Missouri River overland to the Columbia River on a pine tree.
• 1818: Illinois became the 21st U.S. state.
• 1917: After nearly 20 years of planning and construction, the Quebec Bridge opened to traffic.
• 1965:  Keith Richards was electrocuted and knocked unconscious during a Rolling Stones concert in Sacramento.
• 1979: In Cincinnati, Ohio, eleven fans were killed during a stampede for seats before a Who concert at Riverfront Coliseum.
• 1984: A methyl isocyanate leak from a Union Carbide pesticide plant in Bhopal, India, killed more than 3,800 people outright and injured hundreds of thousands of others — some 6,000 of whom would later die from their injuries — in one of the worst industrial disasters in history.
• 1990: ABC's "Nightline" aired Madonna's "Justify My Love" video a week after MTV had banned it.
• 1999: NASA lost radio contact with the Mars Polar Lander moments before the spacecraft enters the Martian atmosphere.
• 1999: Tori Murden became the first woman to row across the Atlantic Ocean alone. The trip from the Canary Islands to the French Caribbean island of Guadeloupe took 81 days.
• 2003: Driving mostly on fear and just three tires, a 62-year-old Milwaukee man traveled roughly 5 miles with a bullet in his abdomen after his car was shot. After arriving home and showing the wound to his wife, the man was taken by ambulance to an area hospital. The bullet was successfully removed.
• 2006: In New Zealand, a police-led initiative of spraying water on state highways to release the trapped spirits of those killed in vehicle crashes was declared a success. A special police convoy carrying Maori elders sprayed 2,600 gallons of river water on the highways in a bid to free the spirits of crash victims.
• 2012: Voyager 1 spacecraft, launched in 1977, reached the end of our solar system and entered interstellar space.
SPECIAL EVENTS
• The Rockefeller Center Tree Lighting happens tonight (Wednesday).
• It's Roof Over Your Head Day — a day of appreciation for the things we have, starting with the roof over our heads.
• Today is Peppermint Latte Day.
UPCOMING
• Pearl Harbor Remembrance Day: December 7
• Chanukah/Hanukkah (first day): December 17
• Christmas Day: December 25
---
NUMBER FOR THE DAY
150: Super Bowl rings purchased and distributed by the NFL each year.
---
NEWS ATTACK!
In Austria a woman purchased firewood with a lost World War II grenade unknowingly embedded in a chunk of the wood. It exploded in her wood-burning stove, but the stove prevented anyone from being injured. [In recognition the stove is being awarded a medal of bravery.]
North Korean leader Kim Jong-Un is trying to bolster patriotism by now barring his top officials from smoking foreign cigarettes. [Because no one makes lung cancer as good as North Korea's lung cancer.]
According to new research, scientists say that humans have had the metabolism to process alcohol successfully for the past 10 million years. [Oh, yeah? Tell that to the guys who have to clean out the backseat of rented limousines.]
Hawaii has been hit with an outbreak of a deadly pig virus. [This could severely damage the tourism industry. It's hard to have an authentic Hawaiian luau experience at Chik-fil-A.]
A member of the religious Mennonite community has pleaded guilty to smuggling marijuana for a drug cartel from Mexico to the U. S. [Inspectors got suspicious when they noticed that all the Bibles had green bookmarks.]
The University of Alabama-Birmingham has shut down its football program. [Is there anything sadder than seeing an out-of-work assistant football coach standing on a street corner shouting motivational cliches for loose change?]
A veteran Major League Baseball umpire has become the first to come out as gay. [Initially, everyone thought that he was straight but the video review clearly showed that he was definitely gay.]
Scientist James Watson is auctioning off his Nobel Price. [And he's also trying to get rid of some old National Geographics.]
CBS says that unless it reaches an agreement this week with Dish Network it will pull its programming from the satellite service. [Already, CBS has set up a helpline to assist devoted viewers who may deal with the devastating effects of NCIS withdrawal.]
---
NEWS & NUGGETS
HOW TO WIN FREE STARBUCKS FOR LIFE _ Forget the limited-time Olive Garden pasta pass — Starbucks wants to give you drinks for life. Until January 5, customers can enter the coffee giant's "It's a Wonderful Card Ultimate Giveaway." Ten customers in the U.S., three in Canada and one in the U.K. will score the big prize, which includes a personalized 10 karat hammered gold Starbucks card.
… The contest also features 482,000 instant prizes like free holiday beverages and treats, but if you're as intent on scoring lattes for life as we are, here's what you need to know:
To enter, make a purchase at your local store using a Starbucks card or the Starbucks mobile app. You'll receive a unique sweepstakes code on your receipt that can be entered online at starbucks.com/play for your chance to win.
The grand prize has an estimated value of $54,000 and comes engraved with the winner's name.
"Life," according to the contest, is 30 years.
The 10 karat gold card is suitable for framing, not for your wallet. Instead, a free reward will be loaded on to the winners' My Starbucks Rewards Gold Card daily, which translates to one free beverage or food item.
WOMAN PRETENDS FRIEND'S BABY IS HERS FOR 6 MONTHS TO KEEP MAN _ Women can get a little crazy when they're in love. In fact, sometimes they'll fake being pregnant. We know that from soap operas — and the news. But few take it as far as Charmaine Wilson did. Wilson, who lives in Wales, fell madly in love with a one-night stand. In order to keep up a connection with her drunk one night Romeo, Wilson concocted an epic story of pregnancy — one that involved multiple lies spread out over multiple months. And it even involved a real child. Once Wilson hooked up with Liam Griffiths she was totally smitten — and devastated that he wanted nothing more to do with her. One day, while working at a hospital while she was a nurse, she was carrying her friend's 2-year-old child, and saw Griffiths, who was visiting his grandfather, there. She promptly told him the toddler she held in her arms was HIS. In order to prove it, Wilson forged a birth certificate, and also managed to produce fake DNA test results to prove that the baby boy was Griffiths' son. As a nurse, Wilson was able to get ahold of these documents. Griffiths's family was thrilled — and showered Wilson and her "son" with gifts. They were even about to build the toddler a home that he could live in with his dad. But the baby fraud came crumbling down six months later thanks to Facebook when a real relative of the baby spotted him in a picture with Griffiths, who was proudly showing off his "son." The person demanded to know why Griffiths was claiming that his cousin was Griffiths's son and then contacted the toddler's real mother, who confirmed it was indeed HER son, not Wilson's. Griffiths was devastated to lose the son he never had.
STREET CLEANERS IN NEW YORK HAVE HELP FROM INSECT GARBAGE-MUNCHERS _ For junk food-loving insects, New York City is the place to be. According to new research, urban-dwelling bugs — millipedes, ants, spiders and cockroaches — roaming a 150-block stretch consume the equivalent of 60,000 hotdogs each year. Scientists at North Carolina State University say if insects weren't eating all of this food, it would accumulate and "be foul."
… Researchers measured the waste-reduction contributions of insects by observing their consumption of human foods in a controlled setting. Scientists recreated a series of city medians and sidewalks in the lab and placed Ruffles potato chips, Nabisco Nilla Wafers and Oscar Mayer Extra Lean Franks out for the taking.
MOM KEEPS HUSBAND'S BODY IN HOME FOR 6 MONTHS _ Fifty-year-old Kaling Wald of Hamilton, Ontario, has pleaded guilty to failing to notify police that her husband had died. She was sentenced on Monday to probation and counseling after lawyers say she left her husband Peter Wald in bed for six months after he passed away in March of 2013. Peter Wald died of what authorities say were natural causes after he suffered a foot infection linked to his diabetes. Kaling Wald sealed up their bedroom to prevent the odor of decay from bothering the rest of the household, which included five of the couple's six children as well as other adults. The entire family was very active in Christian street ministry and outreach, and Kaling apparently believed he would come back from the dead if she prayed hard enough.
SOLDIER CONFRONTS FAKE ARMY RANGER AT MALL _ If it's anything that's offensive, it's people trying to get valor and honor they haven't earned. One soldier was convinced he spotted someone like that when he noticed a man who called himself Sean Yetman in a Philadelphia mall on Black Friday. The man, dressed in fatigues and looking quite military, would have passed muster with any of the cashiers in the mall stores giving discounts. But he didn't quite pass the smell test for Ryan Berk, a Purple Heart recipient. And Ryan let him know it. Ryan pulled the man over by saying his son loves to meet Army guys. The guy proudly walked over and Ryan began peppering him with questions, all the while filming him. At first, the guy seemed to know what he was talking about. But Ryan, who served in Afghanistan and lost several friends, spotted a few things that set off his internal alarm bells.
… The conversation got more heated as Berk then called the man, who wore a name ribbon identifying himself as 'Yetman' and who had introduced himself as 'Sean', a phony and accused him of impersonating a soldier. When the man denied lying about his military service, Berk lost his cool.
Video (NSFW language in second half.)
… Yetman's fiancee, who answered the door at the man's house, said he has a military background, but refused to get specific. And according to the Military Times, a spokesman for the Army Human Resources Command says there is no record of a Sean Yetman in uniform.
SLOGAN FOR BAVARIAN BLACK LAGER DRAWS FIRE _ An advertisement by a New York brewery is getting criticism as a racist beer slogan. The ad is by Heartland Brewery for Bavarian Black Lager. Their slogan accompanying the beer reads, "You'll be a SLAVE to the FLAVOR." This isn't going over well with a lot of people.
$157,000 TEDDY BEAR COLLECTION HEADED FOR AUCTION IN UK _ A teddy bear collector preparing to move from Britain to Hong Kong is putting his $157,000 collection of vintage Steiff bears up for auction. Jena Pang, who named all of the bears in his collection, said the 32 vintage bears from German manufacturer Steiff will be auctioned December 24. The auctioneer said the collection is expected to sell for up to $157,000. The vintage collection, which Pang has been amassing since 2002, includes a 1904 bear considered to be the first teddy bear sold to the public. Similar bears have sold for more than $7,000 in previous auctions.
DOCTOR'S BOMB JOKE AT AIRPORT COSTS HIM $90,000 _ A doctor who made a joke about a bomb in his luggage partly forced the evacuation of Miami International airport and earned a nearly $90,000 fine. Manuel Alvarado pay 90K for his "momentary lapse of reason," which prompted costly evacuations and delays, and brought out a police bomb squad. Here's how it went down: Just before boarding a flight to Bogota in October a security officer asked Alvarado routine questions; the Venezuelan doctor responded that he was carrying C-4 explosives. Though he corrected himself and said he was just joking, it was too late.
STUDY FINDS THAT SHORTER MEN LIVE LONGER _ If you're vertically challenged, a new study from the University of Hawaii finds that shorter men are proven to have longer lives. The study of more than 8,000 American men found that taller men had increased chances of cancers and risks for having elevated blood insulin levels. The study also showed that the longevity gene called FOXO3, which leads to smaller body size during early development and a longer lifespan, are more prominent in shorter men whose height ranges from five feet two and below.
WOMAN WANTED FOR POKING RANDOM PEDESTRIANS WITH SHARP OBJECT _ Police are looking for a woman they say walked down a French Quarter sidewalk and randomly poked two men with a sharp object, injuring them. New Orleans police say the woman appeared to mumble to herself as she walked down the street Sunday night. They've released surveillance video showing the woman appear to stab a bicyclist in the back as he bikes past her. She then walks down the block and appears to poke a pedestrian as he passes her. Police said both men sustained minor lacerations.
PIZZA HUT UNVEILS MIND-READING MENU _ A menu that can read your mind? Pizza Hut claims it's got one. The menu appears on a special tablet computer and tracks your eye movements as you browse over 20 different toppings. After just a few seconds, it decides what you want. Creepy? Pizza Hut says it's just trying to help. The menu is currently in testing phase at 300 Pizza Hut locations in the United Kingdom.
HOUSE VIEWING — BY ROLLERCOASTER _ A house-seller in Holland came up with an ingenious way of attracting more viewers: by installing a rollercoaster to take them around the property. The house had been for sale for more than six months and failed to attract anyone prepared to meet the $780,000 price tag. So the owners decided they needed to come up with something special to create some interest in their home. A roller-coaster was installed to show people around the house and grounds. A video shows people whizzing through the living room, kitchen and bedrooms and around the outside of the property.
Video
DISABLED TORTOISE GETS LEGO WHEELCHAIR _ A disabled tortoise in Germany is now rolling on four wheels after being fitted with a special Lego 'wheelchair'. The tortoise, named Blade, lost the use of his legs because of a growth disorder. Blade's owner took the tiny tortoise to the vet after noticing that he was struggling to move around. The came to the rescue with an unusual idea — a Lego 'wheelchair'. Borrowing from his son's collection, he fitted two sets of wheels to the underside of Blade's shell so that he is now able to scoot around using his legs.
MAKING BEAUTIFUL MUSIC IN A CLEVELAND RETIREMENT COMMUNITY _ Inside the Judson Manor retirement community in Cleveland, Ohio, they have about 100 senior residents. One is 66 years old. One is 77. Another is 93. And then there's Marissa Plank. She's 24. Plank lives in a one bedroom apartment on the 10th floor of Judson Manor. Plank is a student at the Cleveland Institute of Music. And it was there that she first heard about a deal they were offering over at Judson — free rent — in exchange for monthly performances. So now she and two other college students are fully immersed in their golden years.
BOY PUBLISHES NEIGHBORHOOD NEWSPAPER _ The Gazette-Mail of Charleston, West Virginia, has some competition. John Edward Leef recently created The Neighborhood Times — a weekly community newspaper. He publishes out of his home and hand-delivers an average of 20 papers every Saturday or Sunday, depending on his schedule. The content, which is produced with the help of several of his friends, is comprehensive: national and local news blurbs, with puzzles, jokes and recipes in every edition. John Edward is 9.
… When John Edward claimed he was creating a newspaper on his laptop, his mother, Margaret, didn't take it too seriously. But soon he was getting an email from a local baby sitter about buying advertisements for her business and is already considering charging for the newspaper. The Neighborhood Times is currently free, but could soon cost 25 cents.
---
WACKY-BUT-TRUE
WACKY-BUT-TRUE: MAN STEALS CASH REGISTER THROUGH DRIVE-THRU WINDOW _ Police in Alabama (Gadsden) were able to recover a stolen cash register not long after a man took it from a Pizza Hut through the restaurant's drive-thru window. The register was attached to a computer, but the man wrenched it free. The cash register was later found behind a bus on the property of a church.
WACKY-BUT-TRUE: FLORIDA MAN CHARGED WITH STEALING BEEF TONGUE _ A Florida (DeLand) Walmart shopper denied slipping $35 worth of beef tongue into his pants. Police say Jason Puckett was spotted by a security guard slipping two packages of tongue into his waistband. When the guard confronted Puckett he denied stealing the packages and said he had put them back on a shelf. The guard said Puckett then removed the tongue from his pants when he didn't think he was being watched, and then ran from the store.
WACKY-BUT-TRUE: SUSPECT GOT HAIRCUT, THEN ROBBED BARBER SHOP _ New York City authorities are looking for three suspects in the robbery of a Bronx barber shop. Police say the men went into the shop Friday, and one of the suspects got a haircut. That man then showed a gun and demanded the customers hand over their money. The three suspects took the cash register and fled.
WACKY-BUT-TRUE: ROBBER WEARS NAME ON HIS SHIRT _ In Texas a guy walked into a convenience store with the intention of robbing it. Not having a suitable disguise, he simply placed his football helmet on his head before entering. Which might have worked out except that guy's name was on the helmet.
WACKY-BUT-TRUE: MAN BLAMES DRIVING ON COOKIE  _ Police in China say a man's excuse for speeding takes the cake — or, at least, the cookie. Authorities say the driver  blamed his driving problems on an errant cookie. He told them that a cookie had just slipped from his fingers as he dunked it in some tea and that he was trying to fish it out when he lost control of his car.
---
ON TELEVISION
CHRISTMAS IN ROCKEFELLER CENTER (8p ET, NBC) — The 82nd annual tree-lighting celebration features performances by Lady Gaga and Tony Bennett, Cyndi Lauper, Idina Menzel, Pentatonix, LeAnn Rimes and Trisha Yearwood. Matt Lauer, Al Roker, Savannah Guthrie and Natalie Morales host.
SURVIVOR: BLOOD VS. WATER (8p ET, CBS) — The contestants compete for a spot in the top six in this 2-hour edition.
THE MIDDLE (8p ET, ABC) — New
HELL'S KITCHEN (8p ET, FOX) — New
ARROW (8p ET, CW) — New
THE GOLDBERGS (8:30p ET, ABC) — New
MODERN FAMILY (9p ET, ABC) — Kristen Johnston (3rd Rock from the Sun) guest stars in this new episode.
A SATURDAY NIGHT LIVE CHRISTMAS (9p ET, NBC) — Holiday-theme sketches from SNL are featured in this 2-hour special.
RED BAND SOCIETY (9p ET, FOX) — New
THE 100 (9p ET, CW) — New
BLACK-ISH (9:30p ET, ABC) — New
NASHVILLE (10p ET, ABC) — New
STALKER (10p ET, CBS) — New
TOP CHEF (10p ET, Bravo) — It's time for Restaurant Wars as the chefs must open their own pop-up restaurants, which includes creating menus and training staff.
---
ENTERTAINMENT
WALKING DEAD MID-SEASON FINALE SEEN BY 14.8 MILLION _ Sunday's Season 5 fall finale of The Walking Dead was seen by 14.8 million people. The second half of Season 5 begins February 8.
BILL COSBY SUED FOR ALLEGED SEXUAL ASSAULT OF A 15-YEAR-OLD _ TMZ reports Bill Cosby is being sued by a 55-year-old woman who claims the comedian sexually assaulted her at the Playboy Mansion in 1974 when she was 15 years old. According to a lawsuit filed at L.A. County Superior Court, Judy Huth claims she and a friend met Cosby on the set of a movie being filmed at an L.A. park and he invited them to his tennis club a week later. Huth claims when they arrived to the club, Cosby served them booze and played billiards — requiring them to drink a beer every time Cosby won a game. According to the suit, Huth claims Cosby then took the girls to the Playboy Mansion and told them to say they were 19 years old if anyone asked. Huth claims she eventually went to a bedroom with Cosby and that's where she claims Cosby began to "sexually molest her by attempting to put his hand down her pants, and then taking her hand in his hand and performing a sex act on himself without her consent." Huth claims she was emotionally and psychologically damaged from the incident. As for why she filed so late, Huth claims she was so mentally scarred that she only recently connected her psychological issues with the alleged incident.
NATIONAL BOARD OF REVIEW NAMES 'A MOST VIOLENT YEAR' 2014's BEST FILM _ The National Board of Review has declared A Most Violent Year the Best Film of 2014, and singled out for praise the oustanding performances of its stars Oscar Isaac and Jessica Chastain. The NBR's other favorite 2014 films — in alphabetical order — are American Sniper, Birdman, Boyhood, Fury, Gone Girl, The Imitation Game, Inherent Vice, The Lego Movie, Nightcrawler and Unbroken.
… The National Board of Review of Motion Pictures was founded in 1909 in New York City, just 13 years after the birth of cinema, to protest New York City Mayor George B. McClellan, Jr.'s revocation of moving-picture exhibition licenses on Christmas Eve 1908. The mayor believed that the new medium degraded the morals of community. To assert their constitutional freedom of expression, theater owners established the New York Board of Motion Picture Censorship, which soon changed its name to the National Board of Review of Motion Pictures. Its stated purpose was to endorse films of merit and champion the new "art of the people," which was transforming America's cultural life.
ROSARIO DAWSON ADOPTS 12-YEAR-OLD GIRL _ Rosario Dawson is a mom. The actress adopted a 12-year-old girl in October. Dawson was adopted by her stepfather when she was just one.
BURT REYNOLDS IS SELLING HIS 'SMOKEY AND THE BANDIT' TRANS-AM _ Burt Reynolds is selling hundreds of pieces of memorabilia from his personal collection, including some fans' Holy Grail: his 1977 Pontiac Trans Am Coupe from the movie "Smokey and the Bandit." By Tuesday afternoon, the high bid was already at $70,000 for the iconic black muscle car — complete with gold Firebird on the hood — that was as much of a star in the 1977 blockbuster as Reynolds, Sally Field and Jackie Gleason were. The Reynolds lot consists of 650 pieces from the actor's home and ranch. The auction will conclude with live bidding at the Palms Casino Resort in Las Vegas on December 11 and 12. The car will go December 11.
… Reynolds, who made a Hollywood comeback in the 1997 film "Boogie Nights," filed for bankruptcy protection in 1996, had a foreclosure that was filed in 2011 and was still going through the legal system earlier this year, and was feeling financial repercussions from his 1993 divorce from Loni Anderson as recently as July. However, Reynolds say that money problems aren't behind the massive selloff: He just has too much stuff and decided it was time to part with some of it.
GUY LOSES BET, FORCED TO RECREATE "CHANDELIER" VIDEO _ Sia's "Chandelier" music video is a smash. And one guy has just recreated it after losing a fantasy football bet. Chuck Jose, a digital operations specialist for PlayStation, posted the clip to YouTube this week, explaining, "Never lose a fantasy football bet. Or else you will create a shot for shot, homemade version of the music video for Sia's 'Chandelier.'"
Video
ARMIE HAMMER'S WIFE GAVE BIRTH TO THEIR FIRST CHILD _ Armie Hammer officially joins fatherhood. "The Lone Ranger" star's wife, journalist and entrepreneur Elizabeth Chambers Hammer, gave birth to their first child on Monday.
SUICIDE SQUAD' CAST INCLUDES WILL SMITH, TOM HARDY AND JARED LETO AS THE JOKER _ Warner Bros. has confirmed that Will Smith, Tom Hardy, Margot Robbie, Jai Courtney, Cara Delevingne and Jared Leto have joined the cast of Suicide Squad, the DC Comics film. Suicide Squad focuses on a group of supervillains thrown together by the government to execute high-risk missions. Hardy will star as Rick Flagg, leader of the Suicide Squad. Smith will play Deadshot, an enemy of Batman and expert sniper. Jared Leto will play The Joker.
DISNEY DEBUTS 'FROZEN' MAKEUP COLLECTION _ Just when we'd finally gotten "Let It Go" out of our heads, Disney brings Frozen back onto our radar with makeup inspired by our favorite sisters of Arendale. The collection is the latest addition to the "Beautifully Disney" makeup line, available for purchase at Disney Parks. Priced from $11 to $37, the collection includes nail polish, eye shadow, and lipsticks.
HAYLIE DUFF PREGNANT WITH HER FIRST BABY _ It looks like Hilary Duff is about to become an aunt because big sister Haylie Duff has just confirmed that she's pregnant. The star of Real Girl's Kitchen, who announced her engagement to Matt Rosenberg back in April, is now expecting her first child.
---
AUDIO
KID GIFTS GONE WRONG

When kids make gifts, or are in charge of them, funny things can happen. What's the kid gift gone wrong you remember? Here are four calls to help with the phones. » download
WHAT'S YOUR FAVORITE BEST WORST MOVIE?
What's the best worst movie? A move you love even though it's horrible? Here are three calls to help with the phones. » download
DROP: SOMETHING IS NOT RIGHT!
Men yells, "Something is not right!" » download
PHONER: FAVORITE CHILDHOOD TOYS

It's toy-buying season. Share the story of your favorite toy and invite listeners to tell you their stories. We have three calls to help with the phones. » download
PHONER: WHAT DECADE WOULD YOU GO BACK TO?
If you could go back to a different decade which one would it be? Three calls to help launch the phones. » download
PHONER: WOMEN WEARING MEN'S UNDERWEAR

A recent story out of the UK said more and more women are wearing men's underwear, especially boxers. Ask the women in your audience if they ever wear their guys' undies — boxers or briefs. We have two calls to help with the phones. » download
PHONER: SMELLS OFFENSIVE ONLY TO YOU
It's a tough time of year if you find the smell of pumpkin to be offensive. A friend hates the smell of pumpkin. Pies, lattes, you name it. What smell is everyone okay with that you hate? Here are six calls to help launch your local phoner. » download
PHONER: STUFF YOU PUT IN THE DISHWASHER

Lately I've been having fun with using the dishwasher to wash stuff other than dishes. Like my toothbrush. And the pop-out rubber insert for my car's cup holder. Great way to clean the gunk out of that! What stuff do you wash in the dishwasher? Here are a few real calls to help with the phones. » download
---
BITS & BREAKS
TOP TV SHOWS

Delayed because of holiday weekend.
WHAT IS AMERICA'S DULLEST STORE FOR HOLIDAY SHOPPING?

A new poll (commissioned by GameIt) has found that America's dullest store for holiday shopping is the museum store at the National Museum of Funeral History in Houston, Texas. The Funeral History Museum's in-house gift shop and online store sell such tempting items as a $75 book on "The History of American Funeral Directing" and a $25 book titled "President Gerald R. Ford Funeral Service". Browsers can also buy a baseball cap, mug or a tombstone-shaped magnet emblazoned with the museum's slogan: "Any day above ground is a good one".
… America's dullest stores for holiday shopping:
1. The National Museum of Funeral History Museum Store (Houston)
2. Men's Girdle Store (www.mensgirdlestore.com)
3. The Dr. Samuel D. Harris National Museum of Dentistry Gift Shop (Baltimore, Maryland)
4. The Kansas Barbed Wire Museum Gift Shop (La Crosse, Kansas)
5. The Idaho Potato Museum Gift Shop (Blackfoot, Idaho)
6. The Salt and Pepper Shaker Museum Gift Shop (Gatlinburg, TN)
WHITE LIES EVERYONE TELLS

Today's the day I go back to the gym.
"Did you get my text?" "Oh, there it is. I just got it right now."
"Do you want a slice of pizza?" "Mmm… okay, bust just one."
While watching Netflix: "Just one more episode."
"Yeah, I'd love to come see your band play."
"Wanna grab some lunch?" "Oh, I'd really like to but I'm actually very busy right now."
"Yeah, I'm five minutes away."
 Start it on Facebook, take it to the phones: What's a white lie you're tired of hearing?
FOODS AMERICANS ARE MOST LIKELY TO THROW OUT

Now that Thanksgiving is over, your fridge is stuffed with, well, stuffing. And turkey. And mashed potatoes. And cranberry sauce. And you know that with each passing day, your leftovers' conditions are worsening. And as much as you hate to admit it, you see a major fridge clean-out in the near future.
… But Thanksgiving is certainly not the only time Americans waste their food. In fact, the amount of food we toss out annually is becoming a pretty big problem. According to the Environmental Protection Agency, food scraps make up 20% of our landfills, and each year Americans toss 35 million tons of untouched groceries.
… So which foods do we throw out the most? Here's the list, thanks to the USDA's food-loss estimates among consumers for 2010:
Fish and seafood
Added sugar and sweeteners
Fresh fruit
Fresh vegetables
Meat
Vegetables
Meat, poultry, and fish
Eggs
Dairy products
Fluid milk
Grain products
Fruit
Other dairy products
Processed vegetables
Poultry
Added fats and oils
Processed fruit
Tree nuts and peanuts
---
FUN & GAMES
TRIVIA: 365,175 of these sold in the U.S. in 2013. (Honda Accords)
ONE OF US IS LYING!

Each member of your show (from the host on down to the stunt guy) gives out one of the following facts. The first listener to guess who's lying is the winner.
• Apples are part of the rose family
• George Clooney's first TV role was on Mr. Rogers, as a boy selling cookies. (LIE)
• Astronauts get taller when they are in space.
DOUBLE LETTER GAME

I ask a question and the answer will be two words with each of the two words beginning with the same letter. So if I say "Walt Disney's biggest star," you would say "Mickey Mouse." Ready?
• The guy who picked a peck of pickled peppers. (Peter Piper)
• One of the major U.S. airlines. (American Airlines)
• An animated superhero mouse character created (Mighty Mouse)
• It comes after forty three. (Forty four)
• A 1960s sitcom set in a World War II prison camp. (Hogan's Heroes)
---
JOKE OF THE DAY
A man had just settled into his seat next to the window on the plane when another man sat down in the aisle seat and put his black Labrador retriever between them. The first man asked why the dog was allowed on the plane. The second man explained that he was a DEA agent and that the dog was a sniffing dog. "His name is Sniffer, and he's the best there is," he said. "I'll show you once we get airborne when I put him to work." The plane took off, and once it had leveled out, the agent said, "Watch this." He told Sniffer to "search." Sniffer jumped down, walked along the aisle, and finally sat very purposefully next to a woman for several seconds. Sniffer then returned to his seat and put one paw on the agent's arm. The agent said, "Good boy." He turned to the other man and said, "That woman is in possession of marijuana, so I'm making a note of her seat number. The authorities will apprehend her when we land." "Say, that's pretty neat," replied the first man. Once again, the agent sent Sniffer to search the aisles. The Lab sniffed about, sat down beside a man for a few seconds, returned to his seat and placed two paws on the agent's arm. The agent said, "That man is carrying cocaine, so again, I'm making a note of his seat number for the police." The agent then told Sniffer to search again. Sniffer walked up and down the aisles for a little while, sat down for a moment, and then came racing back to the agent. He jumped into the middle seat and proceeded to poop all over the place. The first man was really disgusted by this behavior and couldn't figure out why a well-trained dog would act like that, so he asked the agent, "What's going on?" The agent nervously replied, "He just found a bomb!"
---
VIDEO OF THE DAY
Ferret's got ambition.
https://www.youtube.com/watch?v=FkHbC1RSjv8
---
IMAGE OF THE DAY
Dream office.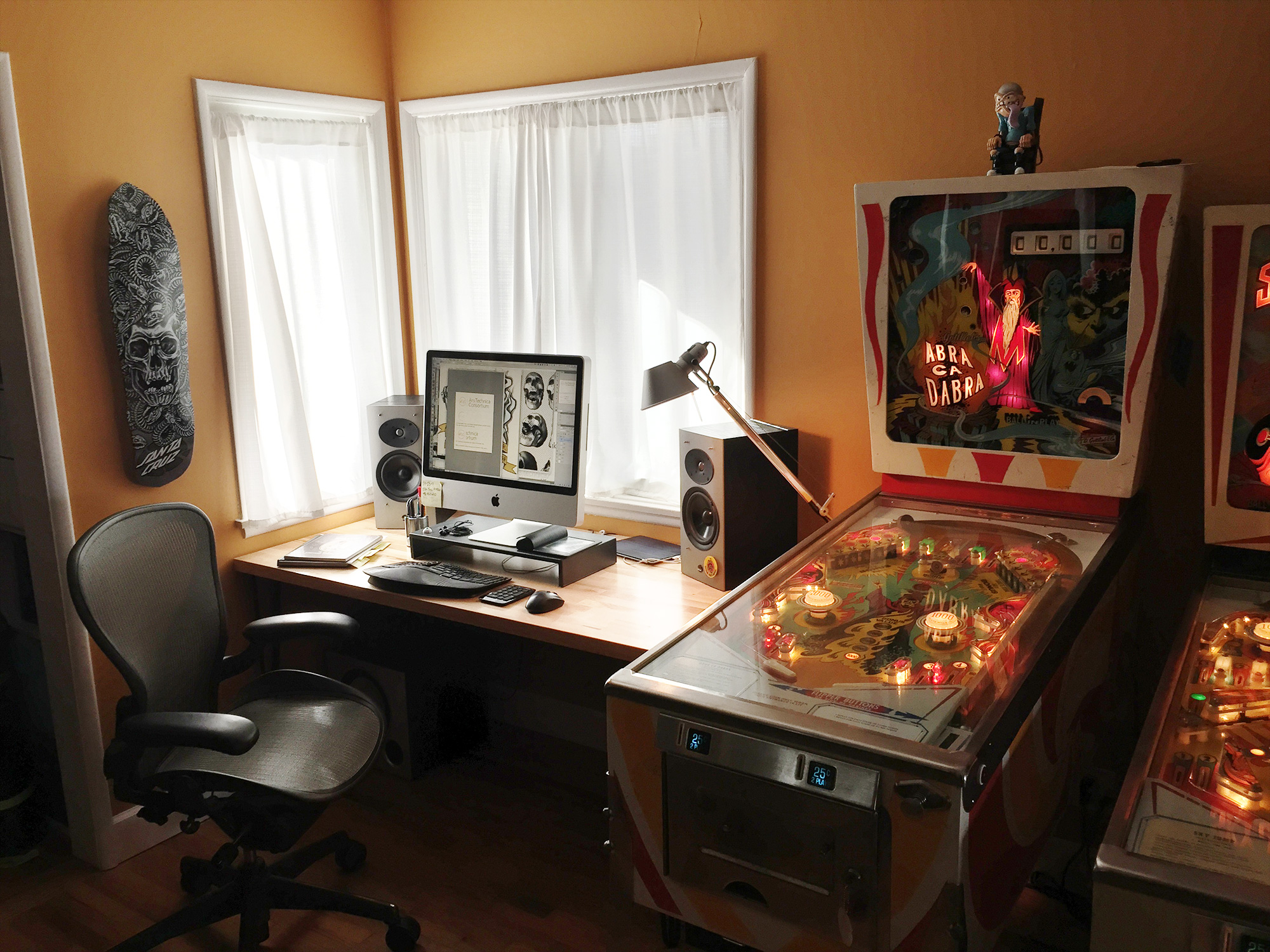 Source: arstechnica.com
---
LAST MINUTE ITEMS
• Download Our Boring Radio Station App.
• In one minute, this model goes through 100 years' worth of hair and makeup trends.
• Random request generator.
• If toddlers texted.
• Remove your personal info from data brokers.
• What if George Lucas was making the new Star Wars movie instead of JJ Abrams?
• Two idea-packed books for sales, promotions and stunts in 2015. Here's one, here's the other.
• The safest gift to get anyone on your holiday list.
• The world sends us garbage, we send back music.
• So you want to own a food truck?
• Comedian does spot-on impressions of celebrities stuck in traffic.
• This canine race course in Finland is designed to test a dog's obedience, concentration, and speed. But no one told the Golden Retriever.
• The United States of Thanksgiving. The NYT looked for Thanksgiving recipes that evoked each of the 50 states.
• Four different images is actually a single photo.
• 15 Android apps that will make your iPhone friends jealous.
---
COUNTRY DATEBOOK: DECEMBER 3, 2014
• 1948: GENE AUTRY's Here Comes Santa Clause entered the Top 40 chart.
• 1966: CHARLEY PRIDE entered the charts for the first time with Just Between You And Me.
• 1973: BOB WILLS held his final recording session in Dallas.
• 1983: ANNE MURRAY topped the charts with A Little Good News.
• 1984: The KENNY ROGERS/DOLLY PARTON holiday album Once Upon A Christmas was certified gold and platinum.
• 1984: KENNY ROGERS' album What About Me became his 11th to achieve platinum status.
• 1991: MERLE HAGGARD's album Okie From Muskogee was certified platinum.
• 1997: LITTLE TEXAS announced plans to break up at the end of the year.
• 1998: SHANIA TWAIN's album The Woman In Me was certified multi-platinum for sales of 11 million copies.
• 1999: WYNONNA was profiled on NBC's Dateline.
• 2001: MARTINA MCBRIDE made a guest appearance on ABC's Who Wants To Be A Millionaire.
• 2001: After months of feuding, LEANN RIMES surprised everyone by re-signing with her record label, Curb.
• 2007: KENNY CHESNEY's concert set for July 26, 2008, at Gillette Stadium in Foxborough, Massachusetts, sold out in 15 minutes.
• 2008: TAYLOR SWIFT and rapper L.L. Cool J co-emceed the first concert television special in which Grammy nominations were announced.
• 2009: KENNY CHESNEY attended the premiere of the movie Invictus in Beverly Hills alongside Brad Pitt, Angelina Jolie, Clint Eastwood, Orlando Bloom and the picture's stars, Matt Damon and Morgan Freeman.
• 2011: LUKE BRYAN served as the grand marshal of the Spirit of Christmas Parade in his hometown, Leesburg, Georgia.
Bassist Paul Gregg of RESTLESS HEART is 60.
---
COUNTRY AUDIO
MADDIE & TAY say the best advice they've received so far was simple. » download
---
COUNTRY MUSIC NEWS
DARIUS RUCKER has joined the lineup for tonight's (Wednesday) Christmas At Rockefeller Center on NBC. TRISHA YEARWOOD and LEANN RIMES will also perform, along with Lady Gaga, Tony Bennett, Cyndi Lauper and others.
CARRIE UNDERWOOD performed two songs Monday night when she joined Bruce Springsteen, Kanye West and Coldplay's Chris Martin during U2's World AIDS Day (RED) event in New York's Times Square. Carrie sang her current single, Something in the Water, and was joined onstage by Edge, U2's guitarist, for Change, a track from her 2009 album Play On. The event was staged to call attention to the continued fight against AIDS throughout the world.
CARRIE UNDERWOOD has abandoned her vegan lifestyle while she's pregnant, but is still keeping a vegetarian diet. Carrie says she really hasn't had any odd cravings so far and that she'll go back to being vegan after the baby comes.
ERIC CHURCH and ASHLEY MONROE were among those honoring MERLE HAGGARD last night in Nashville as The Hag received the Artist of a Lifetime Award at the CMT Artists of the Year special. The show also honored JASON ALDEAN, LUKE BRYAN, FLORIDA GEORGIA LINE, MIRANDA LAMBERT and KEITH URBAN for their accomplishments in 2014.
KENNY CHESNEY and ZAC BROWN BAND will headline the 2015 Tortuga Music Festival. Other performers will include JAKE OWEN, LITTLE BIG TOWN, TRACE ADKINS, DAVID NAIL and SAM HUNT. The event is set for April 11-12 of next year on Ft. Lauderdale Beach.
SUGARLAND's KRISTIAN BUSH will play a full band concert December 11 at the Texas Dancehall (South) in Houston, Texas to raise awareness and donations for Goodwill Industries. The show is part of the Give It Away campaign Kristian entered into with Goodwill Industries to promote awareness of how people's lives can be transformed through donations. Fans bringing a monetary donation or item for donation will be entered to the concert for free.
KIP MOORE will embark on the next leg of his Up In Smoke tour on January 27 in Missoula, Montana.
FRANKIE BALLARD's latest, Sunshine & Whiskey, has earned a gold certification from the Recording Industry Association of America for sales of 500,000 copies.
Top
---
DATEBOOK: DECEMBER 4, 2014
This is day 338 of 2014. There are 27 days remaining.
BIRTHDAYS
• Game-show host Wink Martindale is 81
• Actor-producer-director Max Baer Jr. (The Beverly Hillbillies) is 77
• Jeff Bridges (True Grit, The Big Lebowski) is 65
• Patricia Wettig (thirtysomething) is 63
• Chelsea Noble (Growing Pains, Kirk) is 50
• Marisa Tomei (The Wrestler, Oscar for My Cousin Vinny) is 50
• Fred Armisen (Portlandia) is 48
• Jay Z is 45
• Model Tyra Banks is 41
IT HAPPENED TODAY
• 1791: The first issue of The Observer, the world's first Sunday newspaper, was published.
• 1881: The Los Angeles Times was first published.
• 1918: President Woodrow Wilson sailed for the World War I peace talks in Versailles, becoming the first US president to travel to Europe while in office.
• 1956: During a Carl Perkins recording session also involving Jerry Lee Lewis and Johnny Cash at Sun Records in Memphis, Tennessee, Elvis Presley visited the studio and jammed with Perkins and Lewis extensively with the tape recorders rolling. (Cash reportedly participated briefly in the jam before leaving the studio with his wife and daughter.) The four men become known as the Million Dollar Quartet, and the complete tape from the legendary session was eventually released on compact disc in 1987.
• 1959: A monkey returned to Earth safely, after being launched 55 miles high into outer space by the United States space program.
• 1969: Surfer Greg Noll rode a 65-foot high wave off the North Shore of Oahu, the highest ocean surfing ever recorded.
• 1978: Following the murder of Mayor George Moscone, Dianne Feinstein became San Francisco's first woman mayor. She served until January 8, 1988.
• 1980: The rock group Led Zeppelin formally announces its breakup.
• 1997: The National Basketball Association suspended Latrell Sprewell of the Golden State Warriors for one year for choking and threatening to kill his coach, P.J. Carlesimo.
• 2003: A Dutch teenager who tried to rob taxi driver was arrested after the cabbie took charge. Though the 17-year-old had a knife, without hesitating the 41-year-old cabbie got out of the car, pulled his passenger from the back seat and threw him into the trunk. He then drove straight to the police station.
• 2004: A man in India drove 375 miles without using his hands in an attempt to get into the record books. It took him 15 hours to drive the distance with his hands tied to the driver's seat and the wheel, brakes and clutch controlled by his legs only.
SPECIAL EVENTS
• Today is National Cookie Day.
• Today is Wear Brown Shoes Day.
UPCOMING
• Pearl Harbor Remembrance Day: December 7
• Chanukah/Hanukkah (first day): December 17
• Christmas Day: December 25