InterPrep COUNTRY: May 8, 2015
[printfriendly]
Bits & Breaks • Country Prep • Datebook • Datebook Tomorrow • Entertainment • Fun & Games • Image of the Day • Joke of the Day! • Last Minute Items • News & Nuggets • News Attack • Number for the Day • Television • Video of the Day • Wacky-But-True
---
DATEBOOK: MAY 8, 2015
This is day 128 of 2015. There are 237 days remaining.
BIRTHDAYS
• Comedian Don Rickles is 89
• Toni Tennille (Captain & Tennille) is 75
• Gary Glitter is 71
• Drummer Alex Van Halen of Van Halen is 62
• Stephen Furst (St. Elsewhere, Animal House) is 61
• David Keith(An Officer and a Gentleman) is 61
• Melissa Gilbert (Little House on the Prairie) is 51
• Enrique Iglesias is 40
• Matt Davis (The Vampire Diaries) is 37
• Julia Whelan (Once and Again) is 31
IT HAPPENED TODAY
• 1847: Robert W. Thompson patented rubber tires, which he called "air wheels."
• 1886: Pharmacist John Styth Pemberton invented a carbonated beverage that would later be named "Coca-Cola".
• 1914: Paramount Pictures was formed.
• 1945: President Harry S. Truman announced in a radio address that World War II had ended in Europe. May 8 is called V-E Day.
• 1956: Alfred E. Neuman first appeared on the cover of Mad magazine. His slogan: "What, me worry?"
• 1961: New Yorkers chose a name for their new National League baseball franchise. The "Mets" were born.
• 1970: The album "Let It Be" by the Beatles was released.
• 1977: County Commissioners in Parker County voted Buck Naked, Texas, out of existence. They decided that Buck Naked's road signs caused too many misunderstandings. Residents had chosen the name as a joke.
• 1984: The Soviet Union announced it would boycott the 1984 Summer Olympics in Los Angeles, California.
• 1987: Gary Hart, dogged by questions about his personal life, withdrew from the race for the Democratic presidential nomination.
• 1989: A 23-year-old University of Kansas student died from injuries suffered when a soft drink machine fell on him. He had rocked the machine after it took his money but didn't release a drink. He was the ninth American killed by overturned vending machines in a 3-year period.
• 1999: The Citadel, South Carolina's formerly all-male military school, graduated its first female cadet.
• 2001: An armed raider threatened a bank teller with a pistol in Bordeaux, France, and demanded $13,700. When the teller said he didn't have nearly that much, the bandit lowered his demand to $6,800. When the clerk again refused, the robber asked to withdraw a small amount of cash from his own account. The clerk asked for his identity card. Police captured the suspect at his home.
• 2005: The new Canadian War Museum opened, in commemoration of the 60th anniversary of V-E Day.
• 2010: The last piece of Yankee Stadium fell in the Bronx, New York, marking the end of the two year demolition process.
SPECIAL EVENTS
• V-E Day
• Military Spouse Appreciation Day
• Child Care Provider Day
• Coconut Cream Pie Day
UPCOMING
• May 9: Stamp Out Hunger (Saturday)
• May 10: Mother's Day (Sunday)
• May 20: David Letterman's final show (Wednesday)
• May 25: Memorial Day (Monday)
• June 21: Father's Day (Sunday)
---
DATEBOOK WEEKEND
SATURDAY, MAY 9
• Albert Finney is 79. Sonny Curtis of Buddy Holly and The Crickets is 78. Candice Bergen is 69. Billy Joel is 66. Alley Mills (The Wonder Years) is 64. John Corbett (My Big Fat Greek Wedding, Northern Exposure) is 54. Rosario Dawson (Daredevil) is 36. Audrina Patridge (The Hills) is 30. Grace Gummer (American Horror Story, The Newsroom) is 29.
• Birthmother's Day; Babysitters Day; Miniature Golf Day; National Train Day; National Windmill Day; World Belly Dance Day; Lost Sock Memorial Day; National Shrimp Day.
SUNDAY, MAY 10
• Bono of U2 is 55. Darryl M. Bell (A Different World) is 52. Linda Evangelista is 50. Rapper Young MC is 48. Kenan Thompson (Saturday Night Live) is 37. Lindsey Shaw (Pretty Little Liars) is 26. Lauren Potter (Glee) is 25.
• Mother's Day; Mother Ocean Day; Liver and Onions Day.
---
NUMBER FOR THE DAY
3,085: Square miles of vineyards in China. Spain has more space devoted to vineyards; France is third.
---
NEWS ATTACK!
A new deadly state-of-the-art army tank that the Russians will show the world during next week's military parade had problems during rehearsal on the streets of Moscow. [Which gave the Russians the chance to test their new 21st century cutting-edge tow truck.]
ISIS has released photos of a five-star hotel it renovated for its fighters. It's a 262-luxury hotel with swimming pools and a tennis court. [ISIS plays tennis? I wouldn't think that they'd go anywhere near a game that uses the word love.]
An Arizona school bus driver of elementary school students is in trouble after he locked the doors so that no one could get off until they stopped misbehaving. [His punishment will be to have to drive a bus full of elementary school students.]
That unmanned Russian cargo supply spaceship that went out of control is expected to crash back into Earth's atmosphere today (Friday). [So don't forget your umbrellas.]
As a Mother's Day surprise Ashton Kutcher remodeled his mother's house. [How's your monogrammed vegetable peeler looking now?]
A Connecticut bear has been euthanized after chasing two joggers. [Well, that's the two joggers who were fast enough to get away.]
Kylie Jenner now admits to using lip filler. Her lips are nice and full. [Something I understand that Tom Brady's really hates.]
Manny Pacquiao underwent successful shoulder surgery. [He had injured the shoulder before the big fight then aggravated it afterward trying to haul away his money.]
A Pennsylvania man was arraigned on charges that he used his nine-year-old daughter as part of a scam going door-to-door to collect cash for bogus advance orders of Girl Scout cookies. [Investigators say that the scam probably would have been even more successful if the little girl had been the one wearing the Girl Scout uniform.]
A new study shows that the ringing cellphones of pregnant women startle their fetuses. [What I'd like to know is where in the world on their bodies are these women carrying their cellphones.]
---
NEWS & NUGGETS
SOMEONE LEFT A $100,000 WATCH AT AN AIRPORT AND THE TSA RETURNED IT _ A Japanese real estate developer accidentally left his Cartier watch at a security checkpoint in New Jersey's Newark Liberty International Airport on Tuesday, only to have it returned by the Transportation Security Administration. The watch, which is valued at more than $100,000, is made of solid gold. The face of the watch is covered in more than 100 small diamonds, while its trim and band are covered in hundreds of small diamonds. According to the agency, the owner is a Japanese man who "oversees multiple hotels and resorts in his country and other countries." The real-estate mogul "accidentally left the watch behind at the checkpoint on his way home."
CHINESE COMPANY TREATS 6,400 EMPLOYEES TO FRENCH VACATION _ A Chinese company (Tiens Group Co. Ltd) is treating more than half of its 12,000 employees to a four-day vacation in France and has booked 140 hotels in Paris as part of the package. The trip by the 6,400 employees will mean $15 million in tourist dollars for France.
RUSSIA'S BRAND NEW TANK BROKE DOWN IN THE MIDDLE OF MOSCOW _ The T-14 Main Battle Tank is supposed to be a semi-robotic weapon of the future, a serious threat to any of Russia's enemies who face it. Unfortunately for the Russian military, one broke down in the middle of Moscow Thursday while rehearsing for an upcoming Victory Day parade. In a video that made it to YouTube it looks like something might have locked up, as the engineering vehicle used to tow it was stuck spinning its treads for a while before someone could figure out the issue. • VIDEO
STUDY: MEN DO LESS HOUSEWORK _ This Mother's Day we've got some good news and some bad news on the domestic gender equality front. Good news first: the discrepancy between the amount of time men and women spend on housework has been shrinking steadily since the 1960s. In 1965 (according to University of Maryland) the average American woman spent over four hours a day on housework while the average man spent just over 30 minutes. Between 1965 and 2012 women's daily housework dropped by one hour and 45 minutes, falling from four hours a day to less than two-and-a half hours a day. Over the same period, the amount of time men spend on housework tripled. That increase in men's work came primarily from increased time spent doing "core" household chores, like cooking, cleaning and laundry.
… Women's housework time fell primarily because more women joined the labor force over that same period: more time at work means less time on chores at home.
… You could also look at it like this: women still did about 1.7 times as much housework as men in 2012. In other words, the average man would need to increase his housework output by 70 percent to be as productive on chores as the average woman.
THE OBAMAS' FIRST DATE IS BEING MADE INTO A MOVIE _ If you've read President Obama's autobiography, or seen of he and Michelle's television appearances, you know about the First Couple's first kiss. Obama says: "On our first date, I treated her to the finest ice cream Baskin-Robbins had to offer, our dinner table doubling as the curb. I kissed her, and it tasted like chocolate." The story has become so popular and so sentimental, that there was plaque placed at the spot in Chicago where the two shared their first kiss.
… And now the couple's first date will be turned into a romance drama. The film, called Southside with You, will star Parker Sawyers as a young Barack and Tika Sumpter as Michelle Obama.
… Ice cream wasn't the only part of their date, the soon-to-be couple also visited the Art Institute of Chicago, took a walk and then saw Spike Lee's Do The Right Thing.
ENERGY COMPANY FRIES SAUSAGE TO MAKE A POINT _ Representatives of Duke Energy roasted a sausage for Florida students last week. The barbecue wasn't intended as social occasion; rather it provided a graphic demonstration of what can happen to human flesh when it touches live current. The students were stunned by the flaming damage that could be caused by just a momentary touch of live current from a broken power line. Four linemen, a supervisor and a technical skill specialist conducted the demonstration for the students. Duke Energy uses a transportable "Live Line" trailer for the demonstrations.
DOG INDUCTED INTO PURINA ANIMAL HALL OF FAME FOR SAVING TEEN _ A king shepherd named Sako is a hero in British Columbia. After a fatal car crash last summer, he fought to keep an injured teenager alive. And this week, he was inducted into the Purina Animal Hall of Fame, joining 140 other canines, some cats and a horse the company has recognized at its annual event over the past 47 years.
… At a ceremony in Toronto three other dogs were also honored: one that pulled his owner from ice, one that alerted his owner to a man having a heart attack and another canine, which is a diabetic alert dog.
97-YEAR-OLD WOMAN TAKES HER FIRST FIELD TRIP EVER _ Vivian Bailey has been all around the world and seen a bit of everything in her 97 years. But she keeps coming back to the peaceful bench that was dedicated to her outside the main entrance to Running Brook Elementary School in Columbia, Maryland. For the past 15 years or so, she has been raising money for the children at the school to go on field trips. That's because she never got to take any field trips when she was a child. But a recent outing to Washington, D.C. with a group of fourth graders was a pretty big deal. It was the first field trip Bailey had ever taken.
CVS OFFICIALLY CONFIRMS PLAN TO REOPEN STORES BURNED IN BALTIMORE RIOTS _ The two CVS Pharmacy stores looted and burned by rioters in Baltimore last week will be rebuilt. The company, which has nearly 30 locations in Baltimore and employs more than 500 people, said it also plans to donate a total of $100,000 to two funds established to help recovery from the riots.
PATIENT BILLS HOSPITAL FOR TIME SPENT WAITING FOR APPOINTMENT _ Leslie Ellins has billed a Peterborough, Ontario, Canada, hospital $112.50 for time spent waiting for her appointment. Ellins shared her letter to the hospital online, and it tells hospital management how, despite being ten minutes early for her appointment, she was made to wait 90 minutes for something that took a minute. What got her upset was that she found out halfway through her wait that she'd been scheduled to see the doctor over his lunch break. Ellins Wrote: "I have submitted my bill for my time. I charge $75 an hour so my bill is $137.50. Deducting the fee I was billed from the hospital of $25 I calculate you still owe me $112.50. My invoices are due on receipt. … I did not charge any travel time." • LETTER
KENTUCKY COMPANY MAKES KFC DOUBLE DOWN-SCENTED CANDLE _ Kentucky for Kentucky has revealed its new "Scents of the Commonwealth" candle line, which includes scents like Hot Brown, Mint Julep, and the KFC Double Down — which, if you've forgotten, is a bacon and cheese sandwich that replaces bread with fried chicken. The Scents of the Commonwealth candle line will be available for order today (May 8).
---
WACKY-BUT-TRUE
WACKY-BUT-TRUE: PIG RUNS FOR MAYOR IN MICHIGAN _ A candidate is already asking for write-in votes for the upcoming Flint Mayor's race. Giggles the Pig says she's running because she's never been convicted of crime, she has never missed a deadline and won't waste money. It sounds like a joke, and maybe at some level it is, but the man behind Giggles is an attorney. He is so disgusted with the state of Flint politics — and especially the latest mistake that has no candidates for mayor allowed on the ballot — he is looking into the legality of an animal for mayor.
WACKY-BUT-TRUE: WHERE THERE'S SMOKE, THERE'S … MARIJUANA _ Police in Ohio (Elyria) are investigating a home after firefighters — called to put out a fire — found marijuana plants inside.
WACKY-BUT-TRUE: BORDER X-RAY REVEALS 8-YEAR-OLD BOY IN SUITCASE _ In a clear case of attempted illegal immigration, a sub-Saharan African boy, thought to be around eight years old, was found curled up and hiding in a suitcase at the border between Morocco and the North African Spanish territory of Ceuta. Images of the x-rays clearly show the boy hidden inside the case. A Moroccan woman attempted to smuggle the boy into Spain at around noon Thursday. • IMAGE
WACKY-BUT-TRUE: MAN STOLE RIDING LAWNMOWER BY DRIVING IT OFF THE LOT _ A 49-year-old man in Nebraska was arrested Wednesday after allegedly hopping on a $978 mower and riding it away from Walmart. Police say they found the man riding his mower about ten miles away from the Walmart.
WACKY-BUT-TRUE: CHRISTIAN SWINGERS _ A devout Christian couple from Florida are championing an unusual evangelism technique: swinging. Christy and Dean Parave met online eight years ago, and began swinging after being approached in home improvement store. They now regularly swap partners with other couples. The Paraves believe that they can use their new-found connections to share the Gospel. Dean says: "You can't get closer to someone than having sex with them." He believes that he's been given a unique opportunity to share his faith with those who might otherwise never hear about Jesus. Dean adds: "If all the swinger are sinners what's the best way to talk to the sinners? To join them, right?"
WACKY-BUT-TRUE: THIEF RETURNS CHAIN, SAYS IT WASN'T REAL GOLD _ According to a Miami Beach, Florida, arrest report, Daniel Palmer was armed with a handgun when he approached a group of friends that were standing on the sidewalk. Police said Palmer snatched a gold chain off a man's neck and ran off. They said he returned a couple of minutes later in a white Mercedes-Benz and told the victim that the necklace was fake. The victim flagged down police who caught up to Palmer.
WACKY-BUT-TRUE: DOG EATS LIVE AMMO _ An Arkansas dog named Benno (a Belgian Malinois) has eaten enough strange objects over the course of his four years, you'd think his digestive tract is bulletproof. As it turns out, that's not quite the case. His owner had to take the dog to the vet's office after Benno ate 23 live rounds of .308 caliber ammunition. He chewed vigorously to the point of mangling the ammo, then swallowing each round. Benno eating something inappropriate is not unusual. He's eaten:
Coins
Styrofoam peanuts
Rocks
Wax paper
Aluminum foil
Shirts, bras, socks and underwear
Weed eater string
Magnets
A television remote
A loaf of bread (wrapper included)
LEGOs
A travel size bottle of lotion
… And more!
---
ON TELEVISION
THE AMAZING RACE (8p ET, CBS) — New
GRIMM (8p ET, NBC) — Trubel (guest star Jacqueline Toboni) returns in this new episode.
SHARK TANK (8p ET, ABC) — New
SCREAM (8p ET, FOX) — This 1996 film stars Courteney Cox and Neve Campbell.
CEDRIC'S BARBER BATTLE (8p ET, CW) — New
COLD JUSTICE (8p ET, TNT) — In this new episode, John Walsh interviews the investigative team, who provide insights into the investigations.
WHOSE LINE IS IT ANYWAY? (8:30p ET, CW) — The guest in this new episode is Jane the Virgin star Jaime Camil.
SEASON FINALE: HAWAII FIVE-O (9p ET, CBS) — Season 5 wraps up with a 2-hour finale. The show has not yet been renewed for another season.
BEYOND THE TANK (9p ET, ABC) — New
DATELINE (9p ET, NBC) — A new, 2-hour edition
THE MESSENGERS (9p ET, CW) — New
20/20 (10p ET, ABC) — Repeat
---
ENTERTAINMENT
STEPHEN COLBERT FUNDS EVERY SINGLE S.C. TEACHER-REQUESTED GRANT _ TV personality Stephen Colbert announced Thursday that he would fund every existing grant request South Carolina public school teachers have made on the education crowdfunding website DonorsChoose.org. Colbert partnered with Share Fair Nation and ScanSource to fund nearly 1,000 projects for more than 800 teachers at over 375 schools, totaling $800,000.
JAMES FRANCO: MCDONALD'S WAS THERE FOR ME WHEN NO ONE ELSE WAS _ Actor James Franco has written a lengthy endorsement of his former employer, McDonald's. Franco writes in a Washington Post op-ed that in the late '90s he was a struggling actor living in Los Angeles. He was fired from a coffee shop and golf course and couldn't find acting jobs. He became desperate after his parents cut him off financially. Franco writes: "Someone asked me if I was too good to work at McDonald's. Because I was following my acting dream despite all the pressure not to, I was definitely not too good to work at McDonald's." Franco says he began working in the drive-thru and practicing foreign accents on customers. Despite that fact that he had been a vegetarian before he started working at McDonald's, he began eating the cheeseburgers that were headed for the trash after sitting for more than seven minutes. He also writes: "I hate to whistleblower, but everyone ate straight from the fry hopper. You'd walk by and snag a fry and pop it in your mouth. So easy. I also put tons of salt on the fries because that's how I like them."
NATIONAL LAMPOON'S 'VACATION' REBOOT RELEASES RED-BAND TRAILER _ National Lampoon's Vacation reboot released a red-band trailer Thursday. The preview features footage from the original 1983 film and sees Rusty Griswold (Ed Helms) take his wife (Christina Applegate) and children on their own family road trip to Walley World. Chevy Chase and Beverly D'Angelo also star as Clark and Ellen Griswold, with Leslie Mann, Chris Hemsworth, Stone Crandall, Keegan-Michael Key and Regina Hall co-starring. • TRAILER
LINDSAY LOHAN DOES ALMOST 10 SERVICE HOURS _ Lindsay Lohan has a new set of excuses to justify her anemic community service performance — she's completed less than 10 of the 125 required hours. Lindsay's lawyer was in court Thursday laying out Lindsay's progress. Lindsay has completed 9 hours and 45 minutes. Apparently Lindsay has been struggling to figure out how to do service and what counts as service for months. Previously, she has tried to count greeting fans, letting young people follow her around, and appearing in her own play as official service to her community. The judge said Thursday that if Lindsay does not do all 125 hours by May 28, "there will be consequences."
HART OF DIXIE CANCELED _ Hart of Dixie has been canceled by the CW, and as fans now know, the series finale has already aired. After four seasons of the show, things have wrapped for good.
NEXT AVENGERS FILMS TO BE SHOT ENTIRELY IN IMAX _ Avengers: Infinity War Parts 1 and 2 are going to be shot entirely in IMAX.
NETFLIX RELEASED THE OFFICIAL TRAILER FOR ITS NEW THRILLER SERIES _ Netflix released the official trailer for its new thriller series, Sense8, on Thursday. The sci-fi show is about eight strangers around the world who are suddenly mentally linked to one another. One moment puts them into each other's lives, secrets, and dangers. The trailer reveals pain and pleasure as each of the character's suddenly have seven other selves. The 12-episode first season will be released one month from today (June 8). • TRAILER
SUSPECT IN POWDERED-SUGAR BOMBING OF ADAM LEVINE IS ARRESTED _ Adam Levine might sing about needing a little sweetness in his life, but a powdered-sugar bombing probably wasn't the way he wanted to get it. The Maroon 5 singer had a lot of the white stuff hurled at him Wednesday evening outside the Jimmy Kimmel Live! show in Hollywood, where he'd just taped an appearance and was focused on signing autographs for a few fans. Four people who were around him got hit with smaller doses of the sweet stuff, but Levine was clearly the target. Navid Farsi was immediately grabbed by show security, who then notified the LAPD.
… It's been only a month since Levine was attacked by a fan onstage while he was performing in Anaheim.
FAMILY'S 13,000 MILE TREK IS COMING TO TV _ Bruce Kirkby and his wife Christine decided to take their two children on an adventure — one that would span across 13,000 miles and 12 different time zones. On May 7, 2014, the family packed two duffle bags and hit the road — without ever seeing the inside of an airplane — for the next 96 days. The Kirkby's trip, which took them from the Arctic to the subtropics to the Himalaya, will soon be shown to the world. Bruce is a photographer from Kimberly, British Columbia. On June 21, the Travel Channel will premiere Big Crazy Family Adventure, a nine-part series that will take viewers through the most intense and eye-opening moments of the family's expedition.
… Although the three-month odyssey was a first for the Kirkbys, they have been traveling with their two children — Taj, 4, and Bodi, 8 — since they were infants.
BRITNEY SPEARS NOT "FAKING" ANKLE INJURY _ Britney Spears is not "faking" her hurt ankle to get out of a few performances of her show, despite a new report from a tabloid. A source close to the singer says the story is entirely untrue. According to RadarOnline, despite Spears being seen on video falling down onstage and injuring herself during her Pieces of Me concert in Las Vegas on April 29, the site quotes a so-called "source close to Spears" saying, "Many people involved with the production think she is faking the injury."
DAVE COULIER WILL PLAY UNCLE JOEY AGAIN ON 'FULLER HOUSE' _ Full House co-star Dave Coulier has confirmed he will appear in Fuller House, the Netflix followup to his classic sitcom. Netflix announced last month it had ordered a 13-episode season of the new sitcom. Fuller House will premiere exclusively across all Netflix territories in 2016. Original cast members Candace Cameron-Bure, Jodie Sweetin and Andrea Barber will revisit their Full House roles of D.J., Stephanie and Kimmy in the sequel series, while John Stamos will produce the new show and guest star as his Full House character Uncle Jesse. Coulier will once again play Uncle Joey. • THEME
KRISTEN BELL TO VOICE LISA'S FRIEND ON THE SIMPSONS _ The Simpsons is getting a familiar voice in an upcoming episode: Kristen Bell. Bell will voice a new friend of Lisa Simpson's. Harper, her character, is wealthy and entitled to the point that it threatens the friendship. The episode is called Friend With Benefit and is scheduled to air early next season.
JUSTIN BIEBER REPORTEDLY HOLDS TALKS TO WRESTLE IN THE WWE _ A source says Justin Bieber has discussed the possibility of a cameo in the WWE. That is all.
---
BITS & BREAKS
MOTHER'S DAY FACEBOOK
Simple post: "Describe your Mom in one word."
DOWNLOAD THIS APP!

Here's an app that's one part creative, one part sinister. Snap Me Up is an alarm app unlike any you've seen before. The only way to stop it from blaring is to snap a selfie.
So not only will you get to work or class on time each day, but you'll also end up with a hilarious collection of photos showing yourself moments after you wake up each morning.
Currently its available only for Android phones. • LINK

Editor: Line up some listeners and members of the air staff to put this on their phones and use it for a week. Share the pics on your website!
NEW IN THEATERS TODAY
HOT PURSUIT (PG-13)
An uptight and by-the-book cop tries to protect the outgoing widow of a drug boss as they race through Texas pursued by crooked cops and murderous gunmen.
• Sofía Vergara, Reese Witherspoon
• Links: website • trailer • reviews
THE D TRAIN (R) – LIMITED RELEASE
The head of a high school reunion committee travels to Los Angeles to track down the most popular guy from his graduating class and convince him to go to the reunion.
• James Marsden, Jack Black
• Links: website • trailer • reviews
NEW ON DVD THIS WEEKEND
COLLEGE GRADUATE JOB HUNTING QUIZ

It's college graduation time. Here's a job-hunting quiz for all (local college) graduates.
Nowadays you gotta go where the jobs are, even if that means moving to the productive regions. For recent grads that means moving to…
A) the southeast
B) the west coast
C) China
A good resume is important and should show only your strengths. Which of the following should not be on your resume…
A) the degree received in college
B) your past work experience
C) the summer you spent as an inmate understudy at (local prison)
What you wear says a lot about you. For this reason you should probably not wear which to an interview…
A) a silk 'power' tie
B) a minimal amount of jewelry
C) a T-shirt that says "Thug Life"
The interview process can sometimes be tedious. For example, what would be the best response to the question, "What would you say is your strongest trait…"
A) "My outgoing personality"
B) "My willingness to work with others"
C) "I can load a pump shotgun with one hand"
If the interviewer tells you your definitely in the running for the position you've applied for, you can increase you chances of beating out the competition by…
A) sending him or her a nice 'thank you' card after the interview
B) sending him additional letters of reference
C) sending him and his family to Disney World
SONG: I'LL ALWAYS LOVE MY MAMA
Mother's Day is Sunday. Here's a funky old song about mom.
---
FUN & GAMES
TRIVIA: Experts agree these are most effective when they are under 30 minutes. (Naps)
TRIVIA: There are 17,000 of these in the U.S. (Nail salons)
---
JOKE OF THE DAY
A man left work one Friday afternoon. Being payday, instead of going home, he stayed out the entire weekend with the boys — and spent his entire paycheck. When he finally came home Sunday night, he was confronted by a very angry wife and faced two hours of yelling. Finally, his wife stopped and said to him, "How would you like it if you didn't see me for two or three days?" The man replied, "That would be fine with me." Monday went by and he didn't see his wife. Tuesday and Wednesday came and went and he didn't see his wife. Thursday the swelling went down just enough where he could see her a little out of the corner of his left eye.
---
VIDEO OF THE DAY
Watch a Saudi man take back the money he gave the clerk for items he was buying.
BONUS VIDEO OF THE DAY
11-year-old Robby Novak, aka Kid President, offers some words of wisdom and encouragement to all of the upcoming high school and college graduates.
---
IMAGE OF THE DAY
Great pic for launching a Facebook topic: "What's your wildlife encounter story?!"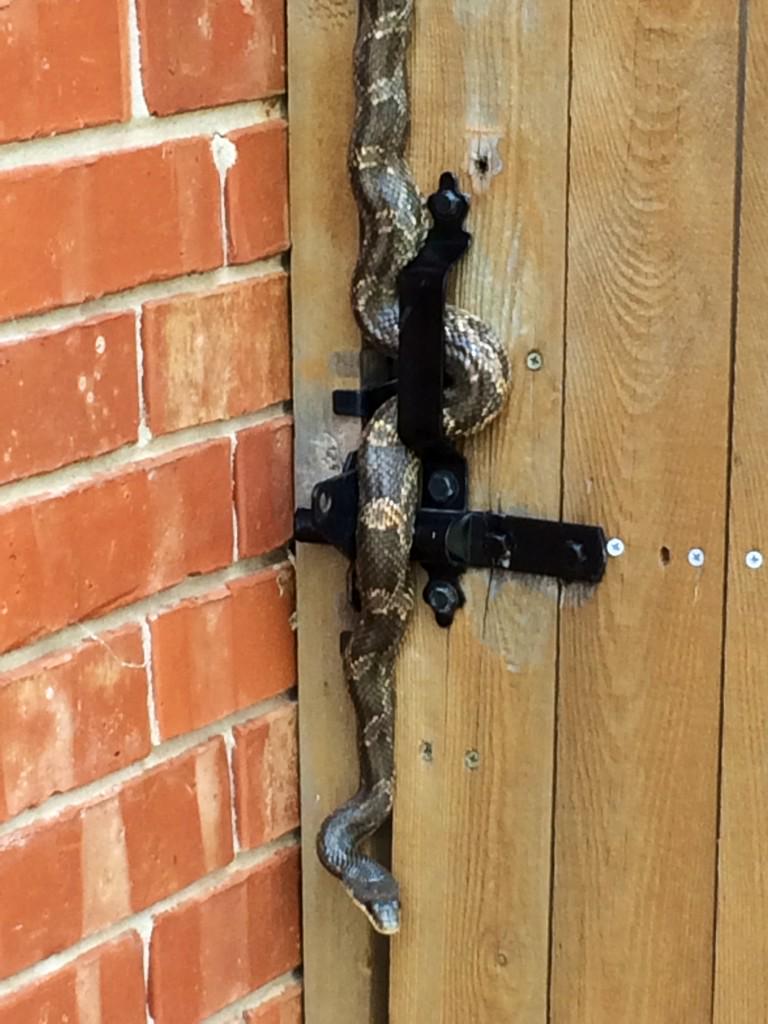 source
---
LAST MINUTE ITEMS
• The Beth Project shows off impressive weight loss in fun photo series.
• Cancer survivor designs cards she wishes she'd received from friends and family.
• Moving hacks.
• This infographic has a list of all the upcoming superhero films.
• If you were not born in the country you were, what would your life be like?
• The trailer we're so damn happy they didn't release: Star Wars: The Binks Awakens.
• For those who own vinyl but no longer own a turntable.
• Head massager out of Japan.
• Do the latest Mad Max trailer justice: put on your headphones and turn it up.
• The Slate Reincarnation Machine.
---
COUNTRY DATEBOOK: MAY 8, 2015
• 1935: THE CARTER FAMILY recorded Keep On The Sunny Side and Wildwood Flower.
• 1976: REBA MCENTIRE made her chart debut with I Don't Want To Be A One Night Stand.
• 1998: GARTH BROOKS played his first show in Nashville when he headlined a gig at the Nashville Arena.
• 1999: MARTINA MCBRIDE appeared on the CBS drama Early Edition.
• 2000: GEORGE STRAIT was spending his third and final week at number one with The Best Day, a song that had become his 36th number one, more than any artist in country music.
• 2004: KEITH URBAN's You'll Think Of Me began the first of two weeks at the top of the country charts.
• 2006: The BON JOVI-JENNIFER NETTLES duet Who Says You Can't Go Home, hit the top the country charts. It was the first country release by a non-country act to top the chart since TOM JONES accomplished the feat in 1977 with Say You'll Stay Until Tomorrow.
• 2009: JAMEY JOHNSON was a surprise guest during KEITH URBAN's show at the Mohegan Sun Arena in Uncasville, Connecticut. They sang In Color.
• 2008: EDDY ARNOLD died. Originally nicknamed the Tennessee Plowboy, he became a leading proponent of the string-laden "Nashville Sound" of the 1960s. Eddy was among the first 10 inductees in the Country Music Hall of Fame.
• 2011: The reality series Why Not? with SHANIA TWAIN debuted on OWN, the Oprah Winfrey Network.
• 2013: FLORIDA GEORGIA LINE scored its second number one with Get Your Shine On.
JACK BLANCHARD is 73. A member of Jack Blanchard & Misty Morgan, they recorded for several labels in the 1970s, including the charting albums Birds of a Feather and Two Sides of Jack and Misty. Between 1969 and 1976, the duo — husband and wife — also released fourteen singles, including Tennessee Bird Walk.
Musician Billy Burnette is 62. In 1986 Billy was nominated for Best New Male Vocalist by the Academy of Country Music along with MARTY STUART, T. GRAHAM BROWN, KEITH WHITLEY, and RANDY TRAVIS (the winner).
Drummer Del Gray of LITTLE TEXAS is 47
---
COUNTRY AUDIO
Visit the country audio archive for over 2,000 audio cuts.
FLORIDA GEORGIA LINE has so many fans because they like getting out of the box. » go to download page
---
COUNTRY MUSIC NEWS
SHANIA TWAIN hasn't played a single show on her Rock This Country Tour, but overwhelming fan demand has led her to extend the tour into October. The tour was initially set to end August 23 in Fresno, California, but will now wrap October 11 in Calgary.
LITTLE BIG TOWN, HUNTER HAYES, CHRIS YOUNG and DARIUS RUCKER will be among the artists taking part in AT&T U-Verse Fan Fair X during the CMA Music Festival in Nashville, June 11-14. They will perform and be part of fan Q&A sessions each day. Other performers will include KELLIE PICKLER, JAMIE O'NEAL, THE OAK RIDGE BOYS and JIM ED BROWN.
The 2015 Country Cruising Event is set for October 23-30 in the Caribbean. Departing from Miami, the event includes performances by NEAL MCCOY, CRAIG MORGAN, TRACE ADKINS, JOE NICHOLS, THOMPSON SQUARE, PARMALEE, BLACKJACK BILLY, LINDSAY ELL, JAMES WESLEY and CHARLIE WORSHAM. CountryCruising.com has more info.
JAKE OWEN is just nine credits shy of degrees in English and Political Science. He dropped out of college to pursue his music career.
When Glamour magazine asked MIRANDA LAMBERT what was in her closet, her answer was simple: cowboy boots and sequins.
MIRANDA LAMBERT and BLAKE SHELTON are busy planning details for the new house they are building — but not just for themselves. Miranda says: "I've been saving inspiration on Pinterest. A friend of mine recently said, 'I can see your Pinterest boards, and all you have on there are dog rooms.'" Miranda and Blake have 15 rescue animals.
… This summer Miranda says she and Blake will be doing a lot of gardening — planting tomatoes and strawberries.
FRANKIE BALLARD is getting his first cinematic moment in the new film Hot Pursuit.  The film starring Reese Witherspoon and Sofia Vergara opens today (Friday) and features an extended musical moment for Frankie's bluesy anthem Drinky Drink from his 2014 album Sunshine & Whiskey.
… The movie also features a song written by MIRANDA LAMBERT, specifically requested by Reese Witherspoon. It's called Two of a Crime. • SONG
GREG BATES (Did It For The Girl) has married singer-songwriter Shelley Skidmore in Kentucky. The two became engaged on Valentine's Day of 2014 and were married last weekend.
CHRIS JANSON has joined TOBY KEITH's Good Times & Pickup Lines Tour for 20 dates. The tour, which begins May 29, will also include special guests ELI YOUNG BAND or COLT FORD on select dates.
THE WEEK'S TOP SINGLES – RADIO AIRPLAY
DIERKS BENTLEY – Say You Do
KEITH URBAN Featuring ERIC CHURCH – Raise 'Em Up
TYLER FARR – A Guy Walks Into A Bar
BILLY CURRINGTON – Don't It
A THOUSAND HORSES – Smoke
FLORIDA GEORGIA LINE – Sippin' On Fire
SAM HUNT – Take Your Time
LEE BRICE – Drinking Class
ZAC BROWN BAND – Homegrown
KENNY CHESNEY Featuring Grace Potter – Wild Child
THE WEEK'S TOP SINGLES – RADIO AIRPLAY, DOWNLOADS & STREAMING
LITTLE BIG TOWN – Girl Crush
SAM HUNT – Take Your Time
ZAC BROWN BAND – Homegrown
BLAKE SHELTON – Sangria
FLORIDA GEORGIA LINE – Sippin' On Fire
BILLY CURRINGTON – Don't It
TYLER FARR – A Guy Walks Into A Bar
DIERKS BENTLEY – Say You Do
A THOUSAND HORSES – Smoke
KEITH URBAN Featuring ERIC CHURCH – Raise 'Em Up
---
DATEBOOK: MAY 11, 2015
This is day 131 of 2015. There are 234 days remaining.
BIRTHDAYS
• Frances Fisher (Titanic, In the Valley of Elah) is 63
• Sports journalist Mike Lupica is 63
• TV personality/former celebrity spouse David Gest (was married to Liza Minnelli) is 62
• Former MTV VJ Martha Quinn is 56
• Tim Blake Nelson (O Brother Where Art Thou?) is 51
• Jeffrey Donovan (J. Edgar, TV's Burn Notice) is 47
• Nicky Katt (Boston Public) is 45
• Jonathan Jackson (Nashville) is 33
IT HAPPENED TODAY
• 1910: An act of the U.S. Congress established Glacier National Park in Montana.
• 1924: Mercedes-Benz was formed by Gottlieb Daimler and Karl Benz merging the two companies.
• 1927: The Academy of Motion Picture Arts and Sciences was founded.
• 1960: The first contraceptive pill was made available on the market.
• 1970: The Beatles song "The Long and Winding Road" was released as a single in the United States. It becomes the group's last number one single in that country.
• 1984: A transit of Earth from Mars took place.
• 1990: Singer Ritchie Valens received a star on Hollywood's Walk of Fame, almost 33 years after his death.
• 1990: Cooks at the Royal Society Show in Dublin, Ireland, made history's largest lasagna. It was 5 feet by 50 feet and weighs 3,610 pounds.
• 1997: IBM's Deep Blue chess-playing supercomputer defeated Garry Kasparov in the last game of a rematch, becoming the first computer to beat a world-champion chess player.
• 1999: A peeping Tom was hiding in the ceiling crawl space of a Mountain Home, Arkansas, tanning salon watching three women tan when the ceiling collapsed. He was so embarrassed he locked himself in the bathroom until police arrive.
• 2006: A science team at the University of Illinois at Urbana-Champaign successfully converted pig waste into crude oil.
• 2007: More than 5,500 people in London's Trafalgar Square smashed the record for the world's largest coconut orchestra. Original Monty Python Stars Terry Jones and Terry Gilliam led 5,567 members of the public and cast members from the musical "Monty Python's Spamalot" in a rendition of their classic singalong "Always Look on the Bright Side of Life" to claim the Guinness World Record title.
SPECIAL EVENTS
• Universal Family Week
• Food Allergy Awareness Week
• National Hospital Week
• National Nursing Home Week
• National Police Week
• Reading is Fun Week
• American Craft Beer Week
• National Bike to Work Week
• National Etiquette Week
• Eat What You Want Day
• Root Canal Appreciation Day
UPCOMING
• May 9: Stamp Out Hunger (Saturday)
• May 10: Mother's Day (Sunday)
• May 20: David Letterman's final show (Wednesday)
• May 25: Memorial Day (Monday)
• June 21: Father's Day (Sunday)