[printfriendly]
Bits & Breaks • Country Prep • Datebook • Datebook Tomorrow • Entertainment • Fun & Games • Image of the Day • Joke of the Day! • Last Minute Items • News & Nuggets • News Attack • Number for the Day • Television • Video of the Day • Wacky-But-True
---
DATEBOOK: JUNE 25, 2015
This is day 176 of 2015. There are 189 days remaining.
BIRTHDAYS
• June Lockhart (Lost in Space) is 90
• Carly Simon is 70
• Jimmie Walker (Good Times) is 68
• TV host/chef Anthony Bourdain is 59
• Ricky Gervais (The Office) is 54
• George Michael is 52
• Angela Kinsey (The Office) is 44
• Busy Philipps (Cougar Town) is 36
IT HAPPENED TODAY
• 1785: George Washington retired from hunting and gave away all of his dogs.
• 1947: The Diary of Anne Frank was published.
• 1949: Long-Haired Hare was released in theaters, starring Bugs Bunny.
• 1950: War broke out on the Korean peninsula as forces from the communist North invaded the South.
• 1951: The first commercial color telecast took place as CBS transmitted a one-hour special from New York to four other cities.
• 1991: Francis Johnson's world record 8.7-ton ball of twine, which he had been building since 1950, was moved to a prominent place in downtown Darwin, Minnesota, where more people could see it.
• 1996: A truck bomb killed 19 Americans and injured hundreds at a U.S. military housing complex in Saudi Arabia.
• 1997: Oceanographer Jacques-Yves Cousteau died at age 87.
• 1997: An unmanned cargo ship crashed into Russia's Mir space station, knocking out half of the station's power and rupturing a pressurized laboratory.
• 2002: A five-year-old Sicilian boy tore up $1,525 in cash, his father's monthly salary, the day after his grandfather told him money was trash and couldn't buy happiness.
• 2006: In England, a woman parked her car near her house. When she returned, she discovered workmen had painted a "disabled'" zone around it. To make matters worse, a parking officer gave her a ticket for supposedly parking in a disabled space.
• 2009: Michael Jackson died at age 50 from an overdose of the powerful anesthetic propofol. The singer's doctor, Conrad Murray, was convicted of involuntary manslaughter.
SPECIAL EVENTS
• Global Beatles Day
• Bomb Pop Day
• Catfish Day
• National Hand Shake Day
• Color TV Day. In 1951, CBS transmitted the appropriately named program "Premiere" from New York City, and through stations in Washington, Baltimore and Philadelphia. The program was seen in color only at a few select facilities because color sets for the home weren't available until 1954.
UPCOMING
• July 1: Canada Day
• July 4: Independence Day
• July 14: MLB All-Star Game
• September 7: Labor Day
• September 10: NFL season begins (Steelers at Patriots)
---
NUMBER FOR THE DAY
5.8: Pounds of whole milk required to make one gallon of ice cream.
---
NEWS ATTACK!
Teen inventors in the UK have created a condom that changes color when it comes in contact with a sexually transmitted disease. It becomes a different color for each particular disease. [So, now there's actually a good reason for freaking out when you see a double rainbow.]
Police in a helicopter in Canada accidentally had the helicopter's PA system on as they had an X-rated conversation while flying over residential neighborhoods. [It brings new meaning to the term dirty cop.]
The latest figures are in and Facebook is now more valuable than Walmart. [Well, until you need toilet paper.]
A 42-year-old father of 3 in the UK says he is considering removing his 29 Miley Cyrus tattoos. [Whoa, you don't want to rush into such a life-changing decision.]
A 77-year-old Colorado man awoke from a nap on his deck to find a bear playfully nibbling his ankle. [I don't think that's legal even in Colorado.]
The U.S. Department of Defense has decided to develop hoverbikes. [Not for defense, but for office parties.]
In India the country's education minister was found to have a fake degree. [That's like finding out that the minister of health has a three-pack-a-day habit.]
The queen may have to move temporarily while Buckingham Palace undergoes much needed work. [Fortunately, Prince Charles and Camilla have a basement.]
A new study finds that if processed foods are labeled as healthy, people tend to overindulge in them. ["Doritos, now with new Cool Ranch-flavored antioxidants."]
---
NEWS & NUGGETS
CHINA SEIZES "CLASSIC" FROZEN MEAT FROM THE 1970s _ Around 880 tons of smuggled frozen meat have been seized by Chinese authorities, including one batch dating from the 1970s. The meat was bound for restaurants, retailers and supermarkets. The seized meat included poultry and beef and was reported to be worth $1.6 million. Some packages were rotten and others were around 40 years old.
TESTICLE-MUNCHING FISH SPECIES FOUND IN US LAKE _ (CAUTION) A species of fish best-known for attacking human testicles has apparently invaded America. A father and son were fishing in New Jersey when they got a bite from an unfamiliar fish with a startling array of near-human teeth. It was a pacu, a relative of the piranha that is native to the Amazon. The pacu has accumulated some colorful nicknames — nutcracker, ball cutter — and a sighting in Sweden in 2013 led to a warning for male swimmers to keep their trunks on. This time the catch came not in Sweden but in Swede's Lake, a man-made body of water near Philadelphia. Fortunately for fisherman Ron Rossi, this particular fish went for the bait.
… There have been a number of pacus caught previously in the United States. They are sold in some pet stores, and are occasionally deposited into lakes and streams, an action that is strongly discouraged by experts. One town in Texas reportedly pays a bounty for each pacu removed from its lake.
LAST-MINUTE FATHER'S DAY LOTTERY TICKET GIFT WORTH $1M _ A scratch-off lottery ticket bought as a last-minute Father's Day gift has turned a Pennsylvania truck driver into an instant millionaire. Joseph Morrah was given the winning $1 Million Payout ticket on Sunday. His daughter put the $20 scratch-off ticket in a card she gave to him. Morrah, a supermarket truck driver for 31 years, had fewer than 200 days to retirement but is taking an early exit, thanks to his winnings.
BIG TRACTOR STOLEN FROM UTAH CONSTRUCTION SITE _ Someone stole a large tractor from a Salt Lake City, Utah, construction site and apparently parked it briefly in front of a suburban home. Officials said the Komatsu front-end loader valued at $130,000 disappeared between 6PM Monday and 7AM Tuesday. The sheriff's office posted a missing vehicle alert on its Facebook page Tuesday and a tipster reported seeing it in the driveway of a residential home.
MAN SUED DOCS FOR MOCKING HIM DURING OPERATION _ Sitting in his surgical gown inside a large medical suite in Reston, Virginia, a Vienna man prepared for his colonoscopy by pressing record on his smartphone, to capture the instructions his doctor would give him after the procedure. But as soon as he pressed play on his way home, he was shocked out of his anesthesia-induced stupor: He found that he had recorded the entire examination and that the surgical team had mocked and insulted him as soon as he drifted off to sleep. In addition to their vicious commentary, the doctors discussed avoiding the man after the colonoscopy, instructing an assistant to lie to him, and then placed a false diagnosis on his chart.
… The anesthesiologist told the sedated patient, "After five minutes of talking to you in pre-op I wanted to punch you in the face and man you up a little bit." When a medical assistant noted the man had a rash, the anesthesiologist warned her not to touch it, saying she might get "some syphilis on your arm or something." There was much more. So the man sued the two doctors and their practices for defamation and medical malpractice and, last week, after a three-day trial, a jury ordered the anesthesiologist and her practice to pay him $500,000.
TINDOG IS TINDER FOR DOGS _ Has your dog been acting funny lately? Does it whine, bark incessantly, chew up your gadgets, and do unspeakable things to your couch cushions? These behaviors could be an outward expression of loneliness. Your dog is yearning for some puppy love. But where do you start? You could take your dog on a walk to the park to check out other dogs hanging around with their owners. But do you really want to go through all that work? Instead, let your furry best friend check out other dogs from your phone.
… You can actually let them do that now, thanks to a new app called Tindog. Tindog is exactly like the popular dating app Tinder, but for dogs. The app is pretty simple. First, you upload a photo of your pooch and yourself as well if you want to get in on the action. After that, you and Bruno or Trixie can browse pictures of all the other dogs in your area. When you see some tail your dog might want to chase, just like the photo. If you are liked in return you will have the opportunity to message the other dog's owner and maybe even set up a date to smell each other in person. • LINK
UNIVERSITY PRESIDENT TURNS DOWN BONUS FOR THIRD YEAR _ University of Cincinnati President Santa Ono has once again turned down his yearly bonus, this time asking that his $200,000 bonus instead be given to 14 scholarships and charities. Ono, who has been president since late 2012, has rejected his annual bonus each of the three full years that he's led the school. This year, he asked that $10,000 be given to the family of Cincinnati Police Officer Sony Kim, who was shot and killed last week in the line of duty. Ono asked that the remaining $190,000 be divided among 13 others, including charities and schools. Ono also rejected a raise to his base salary, which will remain at $520,000.
DEPUTY GIVES KID iPAD AFTER HEARING REASON FOR LEMONADE STAND _ In Ohio, Deputy Zach Ropos was on patrol Monday when he stopped at a lemonade stand to buy a drink. He asked the child, named Gabrielle, what she was going to do with the money. She said that she wanted to buy an iPad so she could play games on it and go on the Internet for schoolwork. Gabrielle told Deputy Ropos that she knew her family was going through a financially-difficult time and she knew she would have to work hard selling lemonade to get enough to buy her own iPad. At first, Deputy Ropos was going to give her an older-model iPad that he had; when he found out it didn't work, he bought her a new one on his own and gave it to her Wednesday.
… The gift became even more valuable when Gabrielle's mother told Deputy Ropos that just before he got there, Gabrielle offered to give all of her lemonade money to her mom to buy gas for the car.
HERE'S YOUR SUMMER COOLER _ Your cooler gets a workout during the summer, so make sure it can handle the extra action like the ATC All Terrain Cooler from Igloo can. It's equipped with rugged all-terrain cycle tires, an ergonomic tow handle, and the ability to hold ice at 90 degree temps for almost a week. • LINK
McDONALD'S JOINS THIS SUMMER'S PULLED PORK PARTY _ McDonald's is currently testing a pulled pork sandwich in at least one restaurant in Indiana.
YOU NO LONGER NEED A FACEBOOK ACCOUNT TO USE MESSENGER _ You no longer need a Facebook account to use Facebook Messenger. Instead, all you need is a phone number. You can connect the app to the contact list on your phone versus your Facebook friend list.
MOM-TO-BE DISCOVERS DISGUSTING SURPRISE IN HER DOUGHNUT _ It feels like every day we read about another person who discovered something disgusting in their food. Ria Findlay, an expectant mother in the U.K., recently decided it was time to try her first-ever Krispy Kreme doughnut. First, she found a little caramel in her hole-less doughnut. Then, a little cream. Ria couldn't identify the next ingredient, so she turned to her friend and asked, "What's this blue stuff?" The answer was a blue surgical latex glove. The supermarket where Ria bought the glovenuts refunded her money and gave her a free box. Then, Krispy Kreme sent over FIVE more.
ONE-FOURTH OF AMERICANS LIE TO DENTISTS ABOUT FLOSSING _ More than a quarter of Americans lie about flossing their teeth, and 36 percent say they would rather do an unpleasant activity like cleaning the toilet or working on their taxes.
… The survey was conducted as part of the American Academy of Periodontology's national campaign called "Love The Gums You're With." The industry group seeks to bring more awareness to gum disease.
… The survey found that the top three unpleasant activities that people would rather do than floss were washing a sink full of dirty dishes (18 percent preferred), cleaning the toilet (14 percent) and waiting in a long check-out line (14 percent).
… When analyzed by city, New Yorkers said they were more likely to floss daily, while people in Atlanta were more likely to be honest about flossing when asked by their dentists.
---
WACKY-BUT-TRUE
WACKY-BUT-TRUE: FIRST KISS LEADS TO FIGHT OVER DAMAGED DENTURES _ A first date went from locking lips to angry words for a couple in China over a dispute involving dentures damaged during a passionate kiss. Police were called after a 30-year-old man got upset with his significant over the dental disaster. He told officers he had lost four false teeth while making out with his date, which he blamed on an "aggressive kissing style." After two hours of police mediation, the man was compensated $483.
WACKY-BUT-TRUE: ROAD SIGN ADVISING TO 'DRINK MORE BEER' SELLS FOR $600 _ An auction company has sold an electronic road sign that caught the public's attention in Michigan for its beer-centric slogan. The auction company, 1Bid.us, has had the sign that says "DRINK MORE BEER" on its property in Bay County, Michigan, for about a week. Company co-owner Curtis Pennell says the sign's previous owner had programmed it. According to Pennell, around 100 people wanted to take a picture beside the sign. He says a few people called to complain about the sign's message. Pennell says the company sold the sign for about $600 this week.
WACKY-BUT-TRUE: MAN WHO LICKED TOAD ARRESTED _ Security at JJ's Sideout Bar and Grill in LaPorte, Indiana, asked Richard Mullins to leave the property after they asked him for ID and he ignored them. Mullins began dancing around the parking lot. He picked up a toad and started to lick it. Police arrived and told Mullins that he would be arrested if he didn't leave the bar's property. Police left, but kept an eye on the area and soon found Mullins back in the parking lot carrying another toad. He was then arrested.
WACKY-BUT-TRUE: CANADIANS TOLD TO STOP FLUSHING THEIR GOLDFISH _ It sounds like a supermarket tabloid story: goldfish the size of dinner plates! But Canadian media outlets are using similar headlines — and they are true. Biologists in Alberta are asking people to stop flushing their cute little goldfish, because they're apparently breeding like rabbits in the province's waterways. And freed from their tight aquariums, they're growing to impressive sizes, as one biologist found out when he spotted kids fishing in a stormwater pond and investigated further. They removed 40 goldfish from the pond and the biggest was the size of a dinner plate.
---
ON TELEVISION
BIG BROTHER (8p ET, CBS) — The season's 2 night premiere continues with this new edition.
ASTRONAUT WIVES CLUB (8p ET, ABC) — New
SERIES PREMIERE: BOOM! (8p ET, FOX) — Hosted by comedian Tom Papa, this new quiz show features teams competing for cash. If the teams get the questions right, they could win big money; if they get it wrong or run out of time, they are showered with anything from guacamole to maple syrup.
DATELINE (8p ET, NBC) — New
BEAUTY AND THE BEAST (8p ET, CW) — New
SEASON PREMIERE: UNDER THE DOME (9p ET, CBS) — Former CSI star Marg Helgenberger and Eriq LaSalle (ER) the cast as season 3 begins with a 2-hour premiere.
MISTRESSES (9p ET, ABC) — New
AQUARIUS (9p ET, NBC) — New
WAYWARD PINES (9p ET, FOX) — New
THE VAMPIRE DIARIES (9p ET, CW) — Repeat
HANNIBAL (10p ET, NBC) — New
SEASON PREMIERE: ROOKIE BLUE (10p ET, ABC) — Season 6 kicks off tonight.
SEASON PREMIERE: GRACELAND (10p ET, USA) — The 3rd season begins tonight.
---
ENTERTAINMENT
BOBBI KRISTINA BROWN MOVED TO HOSPICE CARE _ Five months after she was discovered unresponsive in her bathtub, Bobbi Kristina Brown has been moved to hospice care. The daughter of Bobby Brown and the late Whitney Houston was found face-down in a tub in her Atlanta home on January 31, almost three years after her mother's body was found in a bathtub at the Beverly Hilton Hotel. Shortly afterward, Brown was placed in a medically induced coma and was moved to an Atlanta rehabilitation center in March.
.. Now Brown is being moved once more — and the prognosis doesn't look good. Brown's aunt said Wednesday, "Despite the great medical care at numerous facilities, Bobbi Kristina Brown's condition has continued to deteriorate. As of today, she has been moved into hospice care. We thank everyone for their support and prayers. She is in God's hands now."
NICK GORDON ALLEGEDLY ABUSED, STOLE FROM BOBBI KRISTINA BROWN _ A court-appointed representative of Bobbi Kristina Brown has filed a lawsuit against her boyfriend, Nick Gordon, claiming he took money from her and abused her physically and emotionally. Bedilia Hargrove filed a lawsuit against Gordon Wednesday. The complaint says Gordon routinely transferred large amounts of money from Brown's accounts to his without Brown's permission. The complaint also accused Gordon of misrepresenting the nature of his relationship with Brown, being violent toward her and arguing with her before she was found face down in a bathtub at her suburban Atlanta townhome. Gordon is accused of assault, battery, intentional infliction of emotional distress, unjust enrichment and conversion. The suit seeks at least $10 million in damages.
SHIA LABEOUF HOSPITALIZED AFTER ON SET HEAD INJURY _ Actor Shia LaBeouf was hospitalized Tuesday night after a minor injury occurred on the set of his new film. LaBeouf was filming the movie American Honey when he was injured. The actor's rep Shia received stitches on his hand and for a laceration on his head. He was back on the set Wednesday.
ARNOLD SCHWARZENEGGER: MARIA SHRIVER BETRAYAL THE 'BIGGEST FAILURE' _ A few years ago, Arnold Schwarzenegger's marriage to Maria Shriver was in shambles, after it was revealed that Arnold had a love child with the couple's housekeeper. The affair happened more than a decade ago but it left Schwarzenegger's personal life in pieces after he told Shriver about the affair. Schwarzenegger's opened up about his past mistakes and his relationship with his love child, Joseph Baena, who's now 17. Of the situation he said, "It is fantastic."
… He and Maria are divorced, something he calls his "biggest failure." Arnold says, "I had personal setbacks, but this was, without any doubt, the biggest setback and the biggest failure. Without any doubt. … It was me that screwed up."
FOX, SARAH PALIN PART WAYS _ Fox News and Sarah Palin have gone their separate ways. The former Alaska governor's contract with the network ended as of June 1 and will not be renewed. The rep says the split was amicable, and Palin is still expected to show up on Fox and Fox Business as a guest. Politico says the move was made because execs no longer see Palin as quite so "relevant." But she's not exactly going anywhere: she has her own TV show, gives frequent speeches, will likely appear on other networks and cable channels, and has a "new publishing project" in the works.
TOM HANKS THRILLS AUTISTIC SUPERFAN BACKSTAGE _ While performing at the Broadhurst Theater in New York, Tom Hanks took time out from his packed schedule to squeeze in a meeting with superfan Sarah Moretti. After his performance Hanks surprised Sarah backstage. Sarah, who has autism, has been a dedicated fan for years. She even got to share her 'memory binder' with the actor, in which she collected old photos of Hanks. A signed letter from Tom was the cherry on top of Sarah's perfect day.
HOWARD STERN SAYS HE'S LEAVING AMERICA'S GOT TALENT _ It looks like Howard Stern is leaving America's Got Talent. He told his radio audience Wednesday he's leaving AGT after the current season, which wraps up this summer. Stern has been on America's Got Talent for four seasons.
EMMA WATSON JOINS TOM HANKS FOR THRILLER _ Emma Watson is set to star in the thriller The Circle. She joins Tom Hanks in the story following a young woman who is hired to work for an Internet monopoly that specializes in controlling a singular online identity for each person, rendering privacy obsolete. Watson will play the woman, who begins working at The Circle, which links users' personal emails, social media, banking and purchasing, and meets a mysterious older man, played by Hanks. The movie is based on a 2013 bestselling novel.
KIM KARDASHIAN: "I POST TOO MANY BIKINI SELFIES FOR SOME PEOPLE" _ Kim Kardashian addressed her bikini selfie obsession during a speech on Wednesday in France, admitting that some people may find her endless picture-taking to be a bit too much. She said, "I have really stayed true to myself on Instagram. Maybe I post too many bikini selfies for some people, but my Instagram page is exactly what I want." She added, "… my Instagram is off limits in business contracts. I've actually unfollowed people who post too many brand-related Instagram pictures because I don't believe in it. I can smell it a mile off."
… As far as how the reality TV star has attracted millions and millions of social media followers, Kardashian revealed she doesn't necessarily have a strategy, but makes sure she's the only person who posts from her accounts.
TERMINATOR 2: JUDGEMENT DAY HONEST TRAILER _ The gang at ScreenJunkies has tackled James Cameron's 1991 science fiction action thriller Terminator 2: Judgement Day in the latest installment of their popular Honest Trailers series. Among other things, the T2: Judgement Day honest trailer lampoons the holes in the film's portrayal of time travel. • VIDEO
RIHANNA IS STARTING HER OWN ACCESSORIES LINE _ The latest issue of the magazine Grazia claims Rihanna is putting her music career on the back-burner in order to focus on her work as a designer. And not only that, her company filed an application at the US Patent and Trademarks Office for an accessories line. Sources say her $CHOOL KIlls will include leather products, tote bags and purses — and it'll eventually include clothing down the road.
NEW SOLO BATMAN FILM RUMORED TO BE IN WORKS WITH AFFLECK TO DIRECT _ Ben Affleck is attached to direct and star in a movie called The Batman. The film is likely targeting a 2018 release date.
SKETCHSHE HAS NEW VIDEO _ The women of SketchShe are back with another lip-sync video, this time hitting the golf course and doing their best with MC Hammer's U Can't Touch This. • VIDEO
PATTI STANGER SPLITS FROM BOYFRIEND _ Patti Stanger split from beau David Krause. The Millionaire Matchmaker has parted ways from Krause after dating him for three years. The 54-year-old met Krause online in 2012. The two really hit it off and seemed to be very happy together. The couple was apparently serious for some time, and even exchanged "promise rings," but they never actually got engaged. Patti and David ended things on good terms, and are still friends.
---
BITS & BREAKS
THINGS YOU'VE PROBABLY NEVER DONE, BUT SHOULD
Says Men's Health.
• Approach and engage a pretty girl in conversation with no prompting from anyone. She might not want to talk. She might even tell you to go away. But she might not.
• Be debt-free.
• Try the sport that you ridicule most.
• Finish something early.
• Disagree with the person you fear most.
• Read a novel with more than 300 pages, written before 1950, set somewhere other than the United States.
• Eat brussels sprouts.
• Leave work early for a midweek afternoon ball game. Tell no one. Go alone.
• Go a week without quoting anyone. When you consider movies, late-night monologues, sportscasters, bosses, wives, kids, founding fathers, regular fathers, Shakespeare, philosophers, and Homer Simpson, this suddenly becomes a lot harder than you thought.
• Buy a stock based on research you did all by yourself, from scratch.
SIX MONTHS TILL CHRISTMAS!

You just got last Christmas paid off and you may not want to hear this but — today (June 25) marks six months till Christmas!
CONVERSATION STARTERS

See the flossing item in News & Nuggets. It could be used to launch this as a rolling bit throughout the show.
• 21% of us don't make our bed daily. 5% of us never do.
• Men do 29% of laundry each week..
• 29% admit they've intentionally stolen something from a store.
• 37% claim to know how to use all the features on their DVR.
• 56% of women pay the bills in a marriage.
• 20% of us have played in a band at one time in our life.
---
FUN & GAMES
TRIVIA: The annual cost of maintaining one of these at your home is $2,500. (In-ground swimming pool)
KIDS QUIZ!

No kid would ever get these questions right, which is why you'll record the contest, feed them the answers, and then edit it all together for a fun bit.
• Name the man who created America's first dictionary. (Noah Webster)
• What was the first city in the U.S. to have one-way streets? (Eugene, Oregon)
• How much of earth is covered by water? (About 70%)
• Beefsteak, Cherry and Dwarf are types of what? (Tomatoes)
• How many Harry Potter Books have been sold worldwide. (270 million)
• Who was Abraham Lincoln's vice president? (Hannibel Hamlin AND Andrew Johnson)
• What is AARP short for? (American Association of Retired Persons)
---
JOKE OF THE DAY
A nun rushed into the mother Superior's office and said, "Oh, Mother Superior, I am so ashamed. The new young priest and I have, well, violated the sacred vow of abstinence." The Mother Superior replied, "Go into the kitchen and suck on a lemon for one hour." "Will that keep me from getting pregnant?" asked the nun. "No, but it will wipe that silly grin off your face."
---
VIDEO OF THE DAY
Impatient toddler pushes little girl into pool. 
Start it on Facebook, take it to the phones: What's the mean, embarrassing thing your kid's done to another kid?
https://youtu.be/yV5xpykh5Pk
---
IMAGE OF THE DAY
Lincoln was an alien.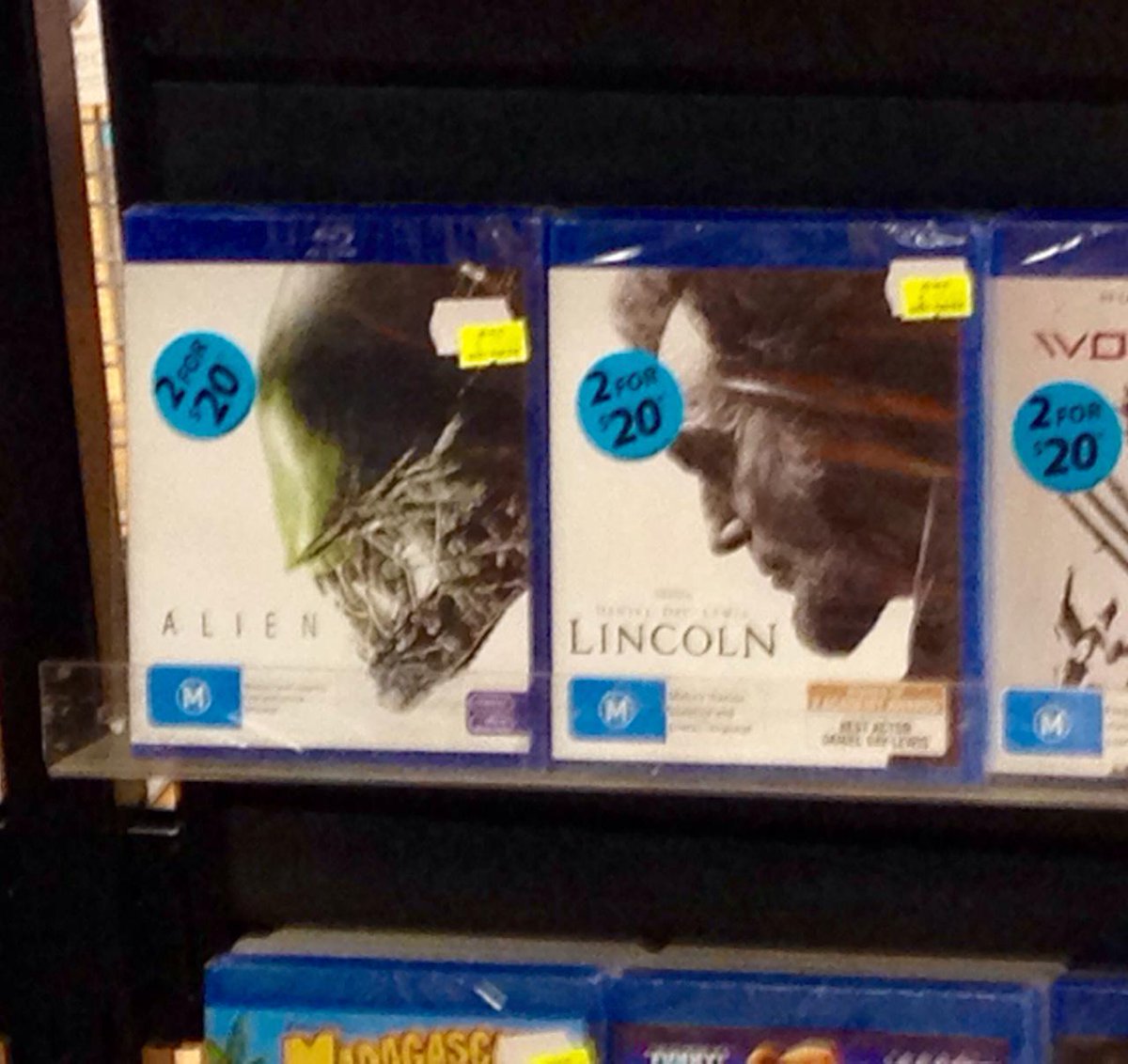 Source
---
LAST MINUTE ITEMS
• 20 first photos from the history of photography.
• Man does manly thing: builds primitive wattle and daub hut from scratch.
• Hidden wine cellars.
• If you favorite tweets for the show and find it a hassle to go back and unfavorite them, try Unfavinator.
• 21 social media marketing experts to follow on twitter.
• One of our favorite weather apps for iOS, Dark Sky, has just updated with a whole new set of notifications, crowd sourced weather, and more.
• A super-simple app for emailing yourself.
• All six Star Wars film at once.
• Real-time cyber-attack threat map.
• Play classic Atari games in your web browser.
• Where is the International Space Station right now?
• If the iPhone had been created in 1987.
• How well can you hear audio quality?
• Mac users: get the fantastic Forecast Bar.
---
COUNTRY DATEBOOK: JUNE 25, 2015
• 1955: EDDY ARNOLD's Cattle Call charted. It would go on to hit number one.
• 1966: DAVID HOUSTON's Almost Persuaded charted. It would go on to hit number one.
• 1986: Jennifer Strait, the 13-year-old daughter of GEORGE STRAIT, was killed in an automobile accident south of San Marcos, Texas.
• 1988: THE DESERT ROSE BAND scored its first number one with He's Back And I'm Blue.
• 1994: CHELY WRIGHT made her chart debut with He's A Good Ole Boy.
• 2002: The DIXIE CHICKS' CD Fly was certified multi-platinum for sales of 10 million copies.
• 2006: KEITH URBAN and Nicole Kidman were married at Cardinal Cerretti Memorial Chapel in Sydney, Australia. Keith sang Making Memories Of Us at the service.
• 2010: The Country Music Hall of Fame opened a photo exhibit, "A Song For America: Twenty-Five Years Of Farm Aid," featuring images of WILLIE NELSON, EMMYLOU HARRIS, John Mellencamp, Neil Young, and Dave Matthews, among others.
• 2010: CARRIE UNDERWOOD had her bachelorette party at Lavo in Las Vegas.
• 2011: JO DEE MESSINA played a benefit concert in Pittsburg, Kansas, to raise funds for tornado victims in Joplin, Missouri.
---
COUNTRY AUDIO
Visit the country audio archive for over 2,000 audio cuts.
BRANTLEY GILBERT on his favorite bus pastime. » download page
---
COUNTRY MUSIC NEWS
With his Saturday (June 20) sellout at TCF Bank Stadium in Minneapolis, LUKE BRYAN picked up his sixth consecutive stadium show sellout. Luke also sold out concerts last weekend in Tulsa, Oklahoma, and Bonner Springs, Kansas. His Kick The Dust Up Tour runs through October with a brief break in August to promote his fifth studio album, Kill The Lights, which hits stores August 7.
CARRIE UNDERWOOD will return for a third season to sing the theme for NBC's Sunday Night Football, Waitin' All Day For Sunday Night. The season kicks off Thursday, September 10 when the Pittsburgh Steelers battle the New England Patriots.
KEITH URBAN is being sued by guitarist Peter Beckett of the '70s group Player (Baby Come Back) for using the term Player in the "Keith Urban 50 Piece Deluxe Player Guitar Package", which sold on the Home Shopping Network. A trial date has been scheduled for December to review the claim.
SAM HUNT insists he's not dating former Bachelorette star Andi Dorfman, and he didn't "hook up" with her, either. Sam says he's not sure how the rumor got started, but admits they did talk backstage during the CMA Music Festival in Nashville. Dorfman also denied the rumor on Twitter.
KELSEA BALLERINI will play her first headlining show July 16 at Gramercy Theatre in New York.
MONTGOMERY GENTRY say a big reason they've remained friends and collaborators for so long is because they were friends before their careers began. Eddie Montgomery also says two other big reasons are the respect they share for each other and the fact they tend to agree on song selection.
DOLLY PARTON presented the 2015 Chasing Rainbows Award to Kansas teacher Dyane Smokorowski at her Dollywood Theme Park in Tennessee recently. The award recognizes an outstanding teacher's contributions to children after overcoming obstacles while still reaching the rainbow. Dolly was the first recipient of the award back in 2002 for her Imagination Library, which donates books to children.
The sixth season of Outdoor Channel's All Access Outdoors With CRAIG MORGAN will debut July 5. Adventures this season will include King Salmon fishing in Alaska, a Grand Ole Opry hunting expedition and more.
CASSADEE POPE has been writing and recording songs for her second album.
---
DATEBOOK: JUNE 26, 2015
This is day 177 of 2015. There are 188 days remaining.
BIRTHDAYS
• Mick Jones of The Clash is 60
• Chris Isaak is 59
• Patty Smyth is 58
• Sean Hayes (Will and Grace) is 45
• Chris O'Donnell (NCIS: Los Angeles, a couple of Batman movies) is 45
• Nick Offerman (Parks and Recreation) is 45
• Jason Schwartzman (Slackers, Rushmore) is 35
• Aubrey Plaza (Parks and Recreation) is 31
• Ariana Grande is 22
IT HAPPENED TODAY
• 1870: Christmas was declared a federal holiday in the United States.
• 1870: The first section of the boardwalk in Atlantic City, New Jersey, was opened to the public.
• 1927: The Cyclone roller coaster opened on Coney Island
• 1963: John F. Kennedy spoke the famous words "Ich bin ein Berliner" on a visit to West Berlin.
• 1974: The Universal Product Code — the bar code — was scanned for the first time to sell a package of Wrigley's chewing gum at a supermarket in Troy, Ohio. Realizing the significance of the event, the buyer returned the item. The 10-pack of Wrigley's Juicy Fruit is now on display at the Smithsonian in Washington, D.C.
• 1975: After 11 years of marriage, singers Sonny and Cher Bono finalized their divorce. Four days later Cher married musician Greg Allman, but the marriage lasted only nine days.
• 1977: Elvis Presley closed his concert at Market Square Arena in Indianapolis with Can't Help Falling In Love With You. It was his last concert. He died seven weeks later.
• 1981: Virginia Campbell of Mountain Home, Idaho, took her coupons and rebates and bought $26,460 worth of groceries. She paid only 67 cents. She would have received a refund of $12.97, but she decided to get film and flashbulbs after the bill was totaled.
• 1990: President George H.W. Bush, who had campaigned for office on a pledge of "no new taxes," conceded that tax increases would have to be included in any deficit-reduction package.
• 1993: President Bill Clinton announced the U.S. had launched missiles against Iraqi targets because of "compelling evidence" Iraq had plotted to assassinate former President George H.W. Bush.
• 1997: Harry Potter and the Philsopher's Stone was published in the UK with an initial print run of 500 copies. It became a smash almost overnight. The seventh title, Harry Potter and the Deathly Hallows, was published just over a decade later.
• 2003: Strom Thurmond, the second longest-serving senator in U.S. history, died at age 100.
• 2008: The U.S. Supreme Court ruled in District of Columbia v. Heller that the ban on handguns in the District of Columbia was unconstitutional.
SPECIAL EVENTS
• National Canoe Day
• Drive Your Corvette to Work Day
• Chocolate Pudding Day
• Take Your Dog to Work Day
• Beautician's Day
UPCOMING
• July 1: Canada Day
• July 4: Independence Day
• July 14: MLB All-Star Game
• September 7: Labor Day
• September 10: NFL season begins (Steelers at Patriots)
---
DATEBOOK WEEKEND
SATURDAY, JUNE 27
• Bruce Johnston of the Beach Boys is 73. Isabelle Adjani is 60. Country singer Lorrie Morgan is 57. J.J. Abrams is 49. Tobey Maguire is 40. Khloe Kardashian is 31. Drake Bell is 29. Sam Claflin (Hunger Games films) is 29. Ed Westwick (Gossip Girl) is 28. Chandler Riggs (The Walking Dead) is 16.
• Decide To Be Married Day; Industrial Workers of The World Day; Great American Backyard Campout; Sunglasses Day.
SUNDAY, JUNE 28
• Comedian-director Mel Brooks is 89. Kathy Bates is 67. Mary Stuart Masterson is 49. John Cusack is 49. Country singer and former American Idol contestant Kellie Pickler is 29.
• Log Cabin Day; International Body Piercing Day.