Bits & Breaks • Datebook • Datebook Tomorrow • Entertainment • Fun & Games • Image of the Day • Joke of the Day! • Last Minute Items • News & Nuggets • News Attack • Number for the Day • Television • Video of the Day • Wacky-But-True
---
DATEBOOK: NOVEMBER 16, 2015
This is day 320 of 2015. There are 45 days remaining.
BIRTHDAYS
• David Leisure (Empty Nest) is 65
• Marg Helgenberger (CSI) is 57
• Jazz singer Diana Krall is 51
• Martha Plimpton is 45
• Maggie Gyllenhaal is 38
IT HAPPENED TODAY
• 1896: The first transmission of electricity between a power plant and a city was sent from the Niagara Falls hydroelectric plant to industries in Buffalo, New York.
• 1977: Close Encounters of the Third Kind opened in theaters.
• 1981: Luke and Laura married on the soap opera General Hospital.
• 1991: A Cromwell, Connecticut, construction worker was arrested for reckless endangerment for allegedly driving too close to a police officer with his steamroller.
• 1996: Mother Teresa received honorary U.S. citizenship.
• 1996: The $127.5 million Jumbotron at Buffalo's HSBC Arena fell to the ice hours before a hockey game; no one was injured.
• 1999: Autobahn 33, a major German highway, was closed for several hours after a truck flipped and spilled 16 tons of apples on the highway. Three cars and two trucks crashed as they slid on the smashed apples. No one was killed, but one person was injured. Applesauce was four inches thick.
• 2001: The first Harry Potter movie, Harry Potter and the Sorcerer's Stone, was released in theaters.
• 2005: Anthony Sheppard of Oakland, California, shocked his mother with a telephone call, a day after he was reported dead. Oakland police had messed up after finding Sheppard's identification card on a shooting victim. Authorities alerted his mother of the shooting, and released the details to reporters. The 23-year-old Sheppard said he was shocked when he walked up to friends who were crying about a newspaper account of his death. Sheppard told police he had lost the I.D. card several years earlier.
• 2012: Hostess Brands revealed its plan to file for bankruptcy and liquidate its assets.
SPECIAL EVENTS
• National Hunger & Homeless Awareness Week
• Rodents Awareness Week
• International Day for Tolerance
• Button Day
• Have A Party with Your Bear Day
• Fast Food Day
UPCOMING
• November 26: Thanksgiving
• November 27: Black Friday
• November 28: Small Business Saturday
• More holidays – Updated with 2016 holidays.
---
NUMBER FOR THE DAY
88 million: Number of Small Business Saturday shoppers in 2014. After Black Friday and before Cyber Monday comes Small Business Saturday, started by American Express in 2010 to encourage shoppers to head to their Main Streets to support independent local retailers.
---
NEWS ATTACK!
In western Pennsylvania there's a school that only has kindergarten through third grade but so far this year the school has recorded 11 student attacks against teachers. [That's one school that could definitely use a mandatory nap time and pat down.]
Ben Carson says that we should pray for Donald Trump. [Which raises the question: Who does Donald Trump pray to? Donald Trump?]
An analysis of data from British young people confirms the existence of a new sexually transmitted disease. [Nice work, Prince Harry.]
A woman was arrested in Illinois (Oak Lawn) after she became angry and refused to pay at Denny's. She had ordered the $4 all-you-can-eat pancake deal, but starting sharing pancakes with all her friends at her table. When the waitstaff told her that it was a no-no she became argumentative and stormed out. [But not before saying some incredibly rude things about Denny's, the staff, and even Mrs. Butterworth.]
New data shows that the average cost of an NFL ticket is now $84.83. [But sadly, that's still cheaper than staying home and watching the game on cable.]
In Canada a nine-year-old boy riding in the backseat called the police to report that his mother was driving drunk. [Well, sometimes you just have to do what you have to do even if you know it means that you pretty much blew your chance of getting a pony for Christmas.]
A nun who worked in the American Southwest during the 19th century has moved one step closer to sainthood. She's known for standing up to Billy the Kid. [That's why in Billy the Kid's photos you never see him chewing gum.]
In Manitoba two 40-year-old lifelong friends learned that they were switched at birth. [That is so awkward, especially when you think about all the times when you were growing up that you thought your buddy's mother was so hot.]
A new study finds that you can improve the mental health of children by holding them back from starting kindergarten for one year, and keeping them at home. [Of course, that's not going to do much good for the mental health of the parents.]
---
NEWS & NUGGETS
PARIS ATTACKERS POSSIBLY USED PLAYSTATION 4 TO COMMUNICATE _ PlayStation 4 may have helped Paris attackers communicate during the planning and possibly during the attacks themselves. Experts say communications within the consoles are difficult to discover by intelligence agencies. While a PlayStation 4 possibly used by Paris attackers was seized in Brussels, the connection between the Paris attackers and a PS4 have not yet been determined.

HERO RESTAURANT WORKER RESCUES TWO WOMEN IN PARIS ATTACKS _ According to the BBC, a restaurant employee named Safer was working behind the bar at La Casa Nostra, an Italian pizzeria in Paris that was one of the first locations attacked by the terrorists. Safer was behind the counter at the restaurant's bar when he heard the first explosions. While that was going on, Safer noticed that two women who had been eating on the restaurant's terrace had been hit by the terrorists' bullets. One had been struck in the wrist, and the other had been shot in the shoulder, and both were bleeding badly. Running outside the restaurant was obviously dangerous, but Safer said he had to help. As soon as there was a lull in the shooting, Safer risked his own life to run out onto the terrace and help the two wounded women, whom he rushed downstairs to hide in the restaurant's basement. He sat with them and tried to stop the bleeding as the gunfire continued above.
HUSBAND OF 9/11 HERO SENDS AWARD BACK OVER CAITLYN JENNER _ The husband of a cop killed on 9/11 returned his wife's posthumous Woman of the Year award to Glamour after the magazine gave the same honor last week to Caitlyn Jenner. James Smith told The New York Post he yanked the award off a shelf in his Long Island, New York home dedicated to his wife, Moira, and FedExed it back to the magazine. Moira, who died at the age of 38 after rushing into the south tower, was honored by the magazine a month after her death. But after Jenner was named Woman of the Year last week, Smith told the magazine's editor to take it back.
… Smith wrote, "Was there no woman in America, or the rest of the world, more deserving than this man [Jenner]? At a time when we have women in the armed forces fighting and dying for our country, heroic doctors fighting deadly diseases, women police and firefighters putting their lives on the line for total strangers, brave women overcoming life threatening diseases . . . the list of possibilities goes on . . . is this the best you could do?"
BLIND TEACHER FIRED FOR USING LISTERINE _ Blind gym teacher Steve Sloan probably never thought in a million years that using Listerine after a spicy lunch to help keep his breath smelling fresh would lead to his dismissal. But that's exactly what happened after a parent accused him of being drunk, saying that it wasn't Listerine that she smelled on his breath — it was alcohol. The popular coach, who had been hailed for many years for overcoming his disability and successfully carving out a career in education, was fired after 29 years of service. The 60-year-old Harlem, New York, resident was completely sober, according to colleagues, friends, and students — despite the parent's claim. Several of them attested that he was scrupulous about his hygiene and cleanliness and that rinsing his mouth with Listerine was a regular part of his daily routine.
MAN BLEW $718,000 ON PSYCHICS _ A man who gave a total of $718,000 to two New York City psychics in cash and gifts has come forward with a real doozy of a sad story. Niall Rice, a 33-year-old British consultant, made headlines anonymously last June when court documents revealed the bizarre situation. Now, the Manhattan district attorney's office has suggested that one of the psychics who swindled him could plead guilty in exchange for just one year in jail. Rice came forward in an interview with The New York Times published on Sunday. Rice said that the psychics lured him in by promising to help with his problems, and to help him reincarnate an ex-girlfriend who had recently passed away. It began at a psychic shop, Rice said, where he quickly dropped thousands as well as a $40,000 ring from Tiffany's when asked by a psychic named Brandy. Rice paid another psychic $90,000 that she said was needed to build a bridge of gold in another dimension to trick an evil spirit that was haunting his late girlfriend.
Start it on Facebook, take it to the phones: Ever been to a psychic? Not one at a carnival or something — one that's actually set up as a business. What did she say? Did you go back?
DARK TOAST, CRISPY FRIES INCREASE CANCER RISK _ Beware the crispy roasted potato or french fry and the crunchy slice of toast. Both contain worryingly high levels of a cancer-causing chemical. A new study (by UK's Food Standards Agency) measured the amount of acrylamide — a cancer-causing toxin — in roasted potatoes, fries and toast prepared in the home. The FSA's chief scientific adviser said the new research showed the need for roast potatoes and fries to be cooked to only "a light golden color" and that bread should be toasted to "the lightest color acceptable". Researchers with the FSA discovered that the crispier the roast potato or fry, the higher the levels of acrylamide they contained. The same went for toast.
MAN DECORATING XMAS TREE FOUND MISSING CAR AND MAN IN POND _ A Grand Rapids, Michigan, man decorating a Christmas tree from atop a scissors lift spotted an odd object in a nearby pond that looked like a car. The man said that no one could see it from the ground because of the water's murkiness. Wrecking crews later came in to pull the muddy vehicle out of the pond, finding skeletal remains in the driver's seat. The 72-year-old driver was last seen on October 11, 2006 at a bar.
MAN ARRESTED FOR SHOOTING WOMAN DURING FREAKY SEX _ A Florida man has been arrested after accidentally shooting a woman in the head while they were engaged in sexual activity. The woman later died from her injuries. Tyrone Fields admitted to shooting the victim but said it had been during "freaky sex" with the woman. He said they were involved in a role-play scenario in which he put a gun to her head. Fields said he removed the magazine from his handgun but forgot to remove the bullet from the chamber so when he intentionally pulled the trigger as part of the role-play, he fired a single round into the her head.
HOMELESS FATHER GIVES BACK, FEEDS THE HUNGRY IN DENVER _ After more than 1,500 people opened their hearts and wallets to help a man down on his luck, that man decided to give back. James Moss and a few volunteers were in Denver's Civic Center Park Saturday handing out sandwiches and other food to the homeless and hungry. It all started when James came to Denver from New York in hopes of making a better life for his young son. He had a job and home lined up. But when his housing arrangements fell through, James and his son were left homeless and without a car. James' story went viral and a GoFundMe campaign raised almost $55,000 in 11 days — way more than James needed. Now James works as a barber, has reliable transportation, and used some of his extra money to feed the homeless.
PHARMACY OWNER RETURNS WALLET MONTHS AFTER MAN LOST IT _ Two months after losing his wallet an Albuquerque, New Mexico man has his wallet back. The owner of Sam's Regent Pharmacy found the wallet while at a local restaurant Friday. The wallet contained $1,200 in cash, an ID card and six credit cards. The pharmacy owner called police and gave them the wallet. The police were able to find the owner and return the wallet to him.
---
WACKY-BUT-TRUE
WACKY-BUT-TRUE: CYBER-CAFES WILL SHUT DOWN AT MIDNIGHT _ In Malaysia, one city is introducing a curfew for players of online computer games in cyber-cafes. Politicians decided to take drastic measures after being approached by a worried mother whose teenage son had gone missing. He was eventually found in a cyber-cafe, where he had been playing online games for 48 hours. Gaming in cyber-cafes in the city will now end at midnight.
WACKY-BUT-TRUE: BOY TURNS MOM IN FOR DRUNK DRIVING _ A young Canadian boy called police to alert them that his mother was illegally driving under the influence of alcohol with him in the vehicle. Authorities received an emergency call but nobody spoke on the other end. Police called back and the boy riding in a van answered. The boy said he was 9 and told police where he lived. Police quickly located and stopped the vehicle and charged the mother with impaired driving.
WACKY-BUT-TRUE: PASTAFARIAN GETS TO WEAR STRAINER ON HEAD IN LICENSE PHOTO _ A Massachusetts agency is letting a woman who belongs to the Church of the Flying Spaghetti Monster wear a colander on her head in her driver's license photo after she cited her religious beliefs. Lindsay Miller said that she "absolutely loves the history and the story" of Pastafarians, whose website says has existed in secrecy for hundreds of years and entered the mainstream in 2005. Miller says wearing the spaghetti strainer allows her to express her beliefs, like other religions are allowed to do. A spokesman for the Massachusetts Registry of Motor Vehicles says policy does not permit head coverings or hats on license photos, but exceptions are made for religious reasons.
WACKY-BUT-TRUE: DEER CRASHES THROUGH CAR'S WINDSHIELD, LANDS IN BACKSEAT _ A Dallas-area driver found himself with an unexpected passenger when a deer smashed through his windshield and ended up in the backseat of his car. The driver was not hurt, but the deer died.
WACKY-BUT-TRUE: BARTENDER SHOT AFTER IRATE CUSTOMER SERVED CLAMATO _ A Montana bartender was shot after a customer got angry about being served Clamato instead of tomato juice in his red beer.
WACKY-BUT-TRUE: CUSTOMER ASSAULTS BURGER KING MANAGER WITH CHICKEN NUGGETS _ Police in Des Moines, Iowa, are reviewing video footage of an assault at a Burger King. An angry customer threw chicken nuggets and fries at the store manager, hitting her in the head with them. The customer was upset because the nuggets were cold.
---
ON TELEVISION
SUPERGIRL (8p ET, CBS) — Due to the Paris attacks, the new episode that was supposed to air tonight is being replaced with next week's Thanksgiving-themed episode (so the story may seem out of order). Brit Morgan (Graceland, True Blood) and Supergirl film star Helen Slater guest star.
THE VOICE (8p ET, NBC) — The Top 12 perform in this new, 2-hour edition.
DANCING WITH THE STARS (8p ET, ABC) — For the first time ever, the 4 remaining couples will be performing 3 dances in the semifinals: a style of dance that hasn't been performed yet, a trio and a dance-off challenge.
GOTHAM (8p ET, FOX) — Raul Castillo (Looking) guest stars in this new episode.
CRAZY EX-GIRLFRIEND (8p ET, CW) — New
MONDAY NIGHT FOOTBALL (8p ET, ESPN) — The Texans (3-5) visit the undefeated Cincinnati Bengals (8-0).
SCORPION (9p ET, CBS) — Sonya Walger (The Catch, Lost) and Damon Herriman (Justified) guest star in this new episode
MINORITY REPORT (9p ET, FOX) — New
JANE THE VIRGIN (9p ET, CW) — Adam Rodriguez (CSI: Miami, Empire) guest stars in this new episode.
MAJOR CRIMES (9p ET, TNT) — New
NCIS: LOS ANGELES (10p ET, CBS) — Due to the Paris attacks, the new episode that was supposed to air tonight is being replaced with a different new episode (so the story may seem out of order).
CASTLE (10p ET, ABC) — Lindsay Price (Hawaii Five-O, Lipstick Jungle) and Andrea Roth (Rescue Me) guest star in this new episode.
BLINDSPOT (10p ET, NBC) — Lou Diamond Phillips guest stars in this new episode.
---
ENTERTAINMENT
SPECTRE STAYS ON TOP _ James Bond and Charlie Brown again dominated North American movie theaters over the weekend. Spectre took in $35.4 million in its second weekend and has already made over $500 million worldwide in less than two weeks. The Peanuts Movie remained in second place with $24.2 million.
CBS REPLACES TERRORISM-THEMED SHOWS _ CBS has pulled tonight's (Monday) originally-scheduled episodes of Supergirl and NCIS: Los Angeles in the wake of Friday's terrorist attacks in Paris that left more than 130 people dead. The scrapped Supergirl episode titled "How Does She Do It?" had Kara dealing with bombings throughout National City. Meanwhile, the ditched NCIS: Los Angeles episode Defectors involved ISIS recruiting young women.
HUNGER GAMES CAST CANCELS RED CARPET INTERVIEWS AFTER PARIS ATTACKS _ The cast of The Hunger Games: Mockingjay – Part 2 has decided to cancel tonight's (Monday) red carpet interviews in the wake of the Paris attacks. The movie, which was filmed partly in France, will not have any red carpet interviews ahead of its premiere in Los Angeles tonight (Monday). The final Hunger Games movie opens Friday.
MADONNA PAYS TRIBUTE TO VICTIMS OF PARIS ATTACKS _ Madonna broke down in tears on Saturday when she stopped her Stockholm, Sweden, concert to honor the victims of Friday's terrorist attacks in Paris. The pop singer told her audience, "It's been very hard for me to get through this show up to this point and not forget about what happened last night, so I need to take this moment to acknowledge the tragedy, the tragic killings, assassinations and the senseless endings of precious life that occurred last night in Paris. Why am I up here dancing and having fun when people are crying over the loss of their loved ones?"
… She continued, "However, that is exactly what these people want to do. They want to shut us up. They want to silence us. And we won't let them. We will never let them! Because there is power in unity…"
DWAYNE 'THE ROCK' JOHNSON REVEALS HIS SECRET BATTLE WITH DEPRESSION _ Dwayne "The Rock" Johnson is revealing a secret battle with depression. Johnson says, "I found that with depression one of the most important things you could realize is that you're not alone. You're not the first to go through it, you're not going to be the last to go through it and oftentimes you feel like you're alone and you feel like it's only you and you're in your bubble." At the young age of 23, Johnson was rejected by the NFL and then cut by the Canadian Football League. This is part of what made him start to feel depressed, and things were not going as planned for him. Johnson did get a call to play football, but Johnson turned it down and decided to be a pro-wrestler instead.
NEW STAR WARS: THE FORCE AWAKENS CLIPS _ In October, Star Wars fans were treated to the first of the trailers for the new Star Wars movie, The Force Awakens. Two new trailers followed, with the third revealing more of the plot for the movie as well as being extended. The latest trailer, released this month, was for an international audience, and reveals further details of the plot. The latest promotion for the movie includes a 45 second trailer made for television.
… The latest trailer made for TV puts the focus on the character Rey, portrayed by Daisy Ridley. It hints at the idea that Rey may be Han Solo's daughter, or that she is somehow related to the owner of the Millenium Falcon, Han Solo's ship. At the end of the 45 second ad, Rey is seen piloting the Millenium Falcon. | VIDEO
SIMON COWELL 'NOT PROUD' OVER GETTING FRIEND'S WIFE PREGNANT _ Simon Cowell has spoken candidly for the first time about stealing his best friend's wife and getting her pregnant — and humbly admits he feels bad about his own behavior. Cowell's affair with his now partner Lauren is believed to date back to 2009 when she was married to millionaire property developer Andrew Silverman. The affair became public — and Cowell's life changed — at the end of July 2013 when news broke of Lauren's pregnancy.  He vividly recalls the moment he was told by Lauren that she was pregnant with his son. He admits it was not planned and reveals that he only found out when an assistant called him out of a meeting saying his girlfriend needed to speak to him urgently.
… Though Lauren is now divorced, Cowell isn't looking at marriage and admits he's not a conventional dad. He doesn't change diapers or prepare food for the little guy, but says he's clearly devoted. "I adore my son. We make each other laugh. We play with the dogs. I've taught him to share, to say please and thank you."
PROMETHEUS 2 GETS ANOTHER NEW TITLE _ Just under a couple months ago, director Ridley Scott revealed that the title of Prometheus 2 would more directly tie into the Alien franchise with the official title of Alien: Paradise Lost. Now he's re-renamed it Alien: Covenant. The movie starts shooting in February.
VINCENT 'DON VITO' MARGERA IS DEAD _ Vincent Margera — the uncle of Bam Margera who appeared in Jackass — has died. Vincent became famous for pranks he pulled off with Bam on the TV show and later the Jackass movies as well as Viva La Bam. Vincent had been struggling with kidney and liver failure for several years. He fell into a coma last month and had been in bad shape ever since.
---
BITS & BREAKS
AUDIO

There are fresh cuts on your Pro Audio page, including a couple that relate to the Paris attacks. Access Pro Audio using the menu to the left.

TOP TEN MOVIES
Spectre, $35.4 million
The Peanuts Movie, $24.2 million
Love the Coopers, $8.4 million
The Martian, $6.7 million
The 33, $5.8 million
Goosebumps, $4.6 million
Bridge of Spies, $4.2 million
Prem Ratan Dhan Payo, $2.4 million
Hotel Transylvania 2, $2.3 million
The Last Witch Hunter, $1.5 million
… One year ago this week the number one movie was Dumb and Dumber To.
… Five years ago this week the number one movie was Megamind.
… Ten years ago this week the number one movie was Chicken Little.
… Twenty years ago this week the number one movie was When Nature Calls.
IN THEATERS FRIDAY
THE HUNGER GAMES: MOCKINGJAY – PART 2 (PG-13) As the war of Panem escalates to the destruction of other districts by the Capitol, Katniss Everdeen, the reluctant leader of the rebellion, must bring together an army against President Snow, while all she holds dear hangs in the balance.
• Jennifer Lawrence, Josh Hutcherson, Liam Hemsworth, Woody Harrelson, Donald Sutherland, Philip Seymour Hoffman, Julianne Moore
• website, trailer, reviews
THE NIGHT BEFORE (R) On Christmas eve, three lifelong friends, two of whom are Jewish, spend the night in New York City looking for the Holy Grail of Christmas parties.
• Joseph Gordon-Levitt, Seth Rogen, Jillian Bell
• website, trailer, reviews
SECRET IN THEIR EYES (PG-13)
A tight-knit team of rising investigators, along with their supervisor, is suddenly torn apart when they discover that one of their own teenage daughters has been brutally murdered.
• Chiwetel Ejiofor, Nicole Kidman, Julia Roberts
• website, trailer, reviews
OPENING NEXT WEEK (WEDNESDAY) _ Creed; The Good Dinosaur; Victor Frankenstein
WEEKLY HOT LIST
Courtesy of morning show talent coach Steve Reynolds. The Hot List is made up of the topics everyone knows about.
Paris Attacks
NFL Week 10
College Football
Ronda Rousey
Donald Trump
Fallout 4
Starbucks Cup
Thanksgiving
Adele
University of Missouri
Ben Carson
Christmas Decorations
Health Insurance Rates
Lamar Odom
HOW TO GO TO SLEEP

Here's how most of us go to sleep. After a few hours on the couch we head to the bedroom for more TV and some quality snuggle time with our smartphone or iPad. When we get drowsy we set aside the smartphone but keep the TV on — finally turning it off when a crazy, screaming infomercial guy wakes us up at 1AM.
Here's how the experts say we should go to sleep.
• Lunch Time – Last call for coffee. Caffeine is the enemy of sleep. Make your last Starbucks run for tea or coffee by mid-afternoon to reduce the risk of sleeplessness.
• 2 Hours Before Bedtime – Hang out in a chill place besides your bedroom. Bedrooms are for sleeping and sex, that's all. While you're still in the family room watching TV, turn the volume down. It will decrease noise stimulation that can wind you up. Switch from overhead lights to lamplight. Reduce the brightness on your iPhone, iPad, TV, or computer screen. Take your last bites of any spicy or sugary foods.
• 1 Hour Before Bedtime – Power down your devices. Most people don't think screen light from a phone or iPad is that big of a deal, but it's actually a pretty big issue: And because you hold devices so close to your eyes, all the brightness gets in. Stop answering work emails. Because thinking about tomorrow's to-do list isn't going to help you sleep. Lower the thermostat. The body temperature drops a little before bedtime because your circadian rhythm controls body temperature. Put the wineglass down. While you might think that alcohol makes you sleepy, the effects wear off in the middle of the night, ultimately affecting your quality of sleep. Read, listen to music, talk. Do anything that relaxes you so long as it doesn't involve a screen.
• 30 Minutes Before Bedtime – Bathe. When you go to sleep, your body temperature naturally drops a bit. And when you get out of a warm bath or shower, water evaporates off your body to create a similar cooling effect. Don't feel like you need to wash your hair — sleeping on wet hair makes some people uncomfortable.
• When You Actually Feel Sleepy – Turn a fan on in your bedroom. Fans create dead noise that drown out disturbing sounds that can turn deep sleep into light sleep without even waking you up. Get into bed. Remove your heaviest blanket — but only if it usually ends up on the floor or tangled elsewhere in the morning. This is a telltale sign that you get overheated during the night, and that can wake you up and impact your quality of sleep. Lie in your favorite position.
---
FUN & GAMES
TRIVIA: 16% of Americans will do this during the days surrounding Christmas. (Go caroling)
NEWS QUIZ!

If your only source of news is TMZ, you won't win…
• Denver police reported a series of five related crimes. Four men were tipping over what? (Cars. Specifically Smart Cars.)
• A Vermont company launched a line of Bernie Sanders-inspired clothing for men. What kind of clothing? (Underwear)
• Harvey Mudd College in California has picked up this unique honor. (Most expensive U.S. college, $67,000 a year.)
• A wall covered in a million of these got cleaned in Seattle. (Pieces of chewed gum)
• Sony announced it's going to stop production on this classic piece of technology. (Betamax tapes)
• Crayola announced it was launching a line of these for adults. (Coloring books)
• Researchers said that if you're online, quitting this would make you happier. (Facebook)
• A New York City politician has proposed that 200 of the city's trees be given what? (Email addresses)
• An inventor named Simone Giertz unveiled her new alarm clock on YouTube. It wakes you up by doing what? (Slapping you in the face)
• Some men tried to smuggle 48,000 cans of beer into Saudi Arabia disguised as what? (Pepsi)
---
JOKE OF THE DAY
I once watched two guys arguing in sign language. Either that or they were both really bad at martial arts.
---
VIDEO OF THE DAY
Penguins attempt escape.
---
IMAGE OF THE DAY
Target ad comparison 2012, 2013, 2014.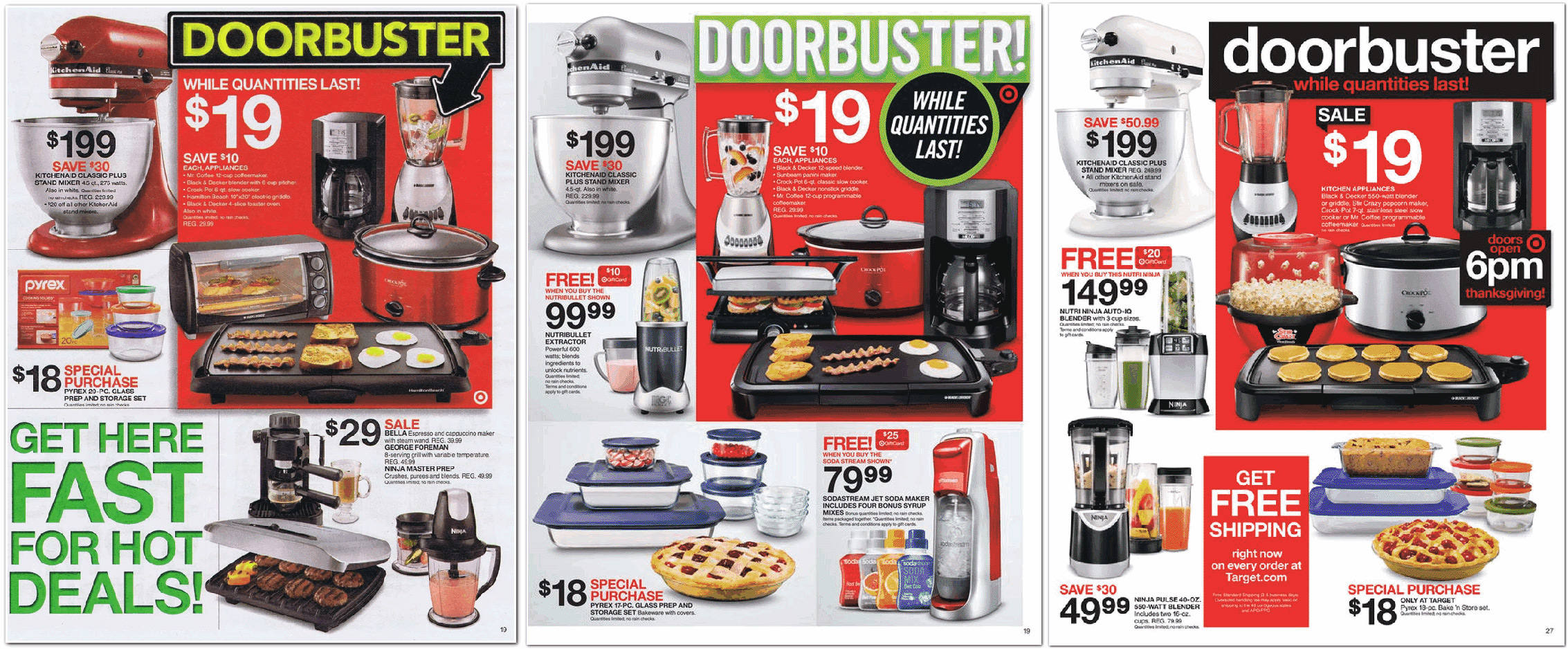 Source: bradsdeals.com
---
LAST MINUTE ITEMS
• Take a break with Wonderputt.
• In 2007, a cruise ship called the Balmoral was brought into the dry docks to be extended.
• Museum of Endangered Sounds. (Play a contest where people have to guess the endangered sound.)
• Here Is Today. (Click 'okay'.)
• The 1M Hauly is designed for the discreet, comfortable carry of up to $1 million.
• If you need to find someone in a crowd, use your smartphone as a beacon.
• I had a speech coach analyze my voice and found out I'm making four mistakes.
• Rules for email.
• The First Baskets of 50 All-Time NBA Greats.
• In this short video, augmented reality startup company Magic Leap used their cool technology to make 3D magic happen in a school gym.
• The first person to run a marathon without talking about it.
---
DATEBOOK: NOVEMBER 17, 2015
This is day 321 of 2015. There are 44 days remaining.
BIRTHDAYS
• Gordon Lightfoot is 77
• Director Martin Scorsese is 73
• Lauren Hutton is 72
• Danny DeVito is 71
• Saturday Night Live producer Lorne Michaels is 71
• Former Speaker of the House John Boehner is 66
• Stephen Root (Office Space, NewsRadio) is 64
• RuPaul is 55
• Dylan Walsh (Nip/Tuck) is 52
• Daisy Fuentes is 49
• Ronnie DeVoe of Bell Biv DeVoe is 48
• Rachel McAdams (Sherlock Holmes movies) is 37
IT HAPPENED TODAY
• 1800: The United States Capitol building in Washington, DC held its first session of the U.S. Congress.
• 1827: The Delta Phi Fraternity, America's oldest continuous social fraternity, was founded at Union College in Schenectady, New York.
• 1968: NBC preempted the final 1:05 minutes of a very close NFL football game between the New York Jets and the Oakland Raiders with the film Heidi, prompting an outrage amongst sport fans.
• 1970: Douglas Engelbart received the patent for the first computer mouse.
• 1995: The movie Goldeneye, starring Pierce Brosnan as Agent .007, premieres throughout the U.S.
• 1996: A Tampa, Florida, packaging distributor introduced Biofoam, a new grain-based packing "peanut" more environmentally friendly than Styrofoam peanuts. Biofoam, which smells like popcorn, was originally developed as a snack food, but it didn't sell.
• 1997: The wait at Baltimore-area Pizza Huts was up to three hours for their $1.69 bargain pizzas. The chain had promised a dollar off their large pizza for every sack the Baltimore Ravens got against the Philadelphia Eagles. The Ravens got nine sacks in a 10-10 overtime tie.
• 1998: The public heard Monica Lewinsky's voice for the first time as the House Judiciary Committee released 22 hours of recordings secretly made by Linda Tripp.
• 2002: An Indian man who became famous for smoking through his ears announced he would begin smoking through both his mouth and ears simultaneously. Dharmendra Singh of Bikaner also whistled through his nose, but he said that didn't really impress anybody.
• 2003: Arnold Schwarzenegger was inaugurated Governor of California.
• 2004: Kmart announced it was buying Sears, Roebuck and Co. for $11 billion.
• 2008: The worldwide box office total for The Dark Knight reached the billion dollar mark.
• 2013: A rare late-season tornado outbreak struck the Midwest. Illinois and Indiana were most affected with tornado reports as far north as lower Michigan. In all around six dozen tornadoes touched down in approximately an 11-hour time period, including seven EF3 and two EF4 tornadoes.
SPECIAL EVENTS
• Homemade Bread Day
• National Unfriend Day
• World Prematurity Awareness Day
• National Baklava Day
UPCOMING
• November 26: Thanksgiving
• November 27: Black Friday
• November 28: Small Business Saturday
• More holidays – Updated with 2016 holidays.