INTERPREP PRO ★ DECEMBER 15, 2017
[su_note note_color="#fff666″ text_color="#000000″ radius="10″]This is a full version of InterPrep PRO. Country radio pros: Look for additional prep at the bottom.
Subscribe with the link above and if you're not 100% satisfied during your first month we'll give you a full refund.[/su_note]
[printfriendly]
Audio • Bits & Breaks • Country Prep • Datebook • Datebook Tomorrow • Entertainment • Fun & Games • Image • News & Nuggets • News Attack • Number for the Day • Television • Video • Wacky-But-True • USER'S GUIDE
---
DATEBOOK: DECEMBER 15, 2017
This is day 349 of 2017. There are 16 days remaining.
BIRTHDAYS
• Tim Conway (The Carol Burnett Show) is 84
• Dave Clark of the Dave Clark Five is 75
• Don Johnson (Miami Vice, Nash Bridges) is 68
• Helen Slater (City Slickers, The Secret of My Success) is 54
• Paul Kaye (Game of Thrones) is 53
• Adam Brody (The O.C.) is 38
• Michelle Dockery (Downton Abbey) is 36
• Charlie Cox (Netflix's Daredevil) is 35
• Camilla Luddington (Grey's Anatomy) is 34
IT HAPPENED TODAY
• 1791: The Bill of Rights, the first 10 amendments to the U.S. Constitution, took effect following ratification by Virginia. Among other things, these amendments guarantee freedom of speech, the right to bear arms, the right to peaceably assemble, freedom of the press, and freedom of religion.
• 1938: Ground was broken for the Jefferson Memorial in Washington, D.C.
• 1939: Gone With the Wind had its world premiere in Atlanta.
• 1944: Bandleader Glenn Miller was killed when his U.S. Army plane disappeared over the English Channel.
• 1966: Walt Disney died at age 65.
• 1979: Trivial Pursuit was conceived.
• 2001: The Leaning Tower of Pisa reopened after 11 years and $27 million to fortify it, without fixing its famous lean.
• 2006: Romanian police said they were looking for two burglars who broke into a woman's apartment and left her some money. The 86-year-old told police two young men, wearing masks, trashed her apartment. She said they rummaged for money or valuables but found only her wallet with the equivalent of a few bucks inside. The burglars then gave the woman all of their loose change — and left without taking anything.
• 2009: Boeing's 787 Dreamliner made its maiden flight from Seattle, Washington.
• 2012: Hilary Clinton, the U.S. Secretary of State, fainted from dehydration and sustained a concussion after falling in her home.
• 2015: The Mayor of Flint, Michigan, declared state of emergency over contaminated water supplies amid calls for a a criminal investigation.
SPECIAL EVENTS
• Underdog Day
• Bill of Rights Day
• International Tea Day
• Cupcake Day
• Ugly Christmas Sweater Day
• Gingerbread Latte Day
UPCOMING
• December 15: Ugly Christmas Sweater Day
• December 21: First day of winter
• December 23: Festivus
• December 24: Christmas Eve
• December 25: Christmas Day
• December 26: Kwanzaa
• December 31: New Year's Eve
• January 1: New Year's Day
• January 1: Rose Bowl and Sugar Bowl (college semis)
• January 1: Supermoon: the first of 2018
• January 6: NFL Playoffs begin
• January 8: College football championship
• January 13: NFL Divisional Playoffs begin
• January 23: Oscar nominations announced
• January 30: State of the Union
• January 31: Total lunar eclipse/blood moon
• February 2: Groundhog Day
• February 4: Super Bowl 52
• February 8: New York Fashion Week begins
• February 9: Winter Olympics Opening Ceremony
• February 13: Mardi Gras
• February 14: Valentine's Day
• February 16: Chinese New Year – Year of the Dog
• February 19: President's Day
---
DATEBOOK WEEKEND
SATURDAY, DECEMBER 16
• Liv Ullman is 79. Lesley Stahl is 76. Steven Bochco is 74. Benjamin Bratt is 54. Country singer Jeff Carson is 54. Miranda Otto is 50. Krysten Ritter is 36.
• Chocolate-covered Anything Day. Day Of Reconciliation.
SUNDAY, DECEMBER 17
• Pope Francis is 81. Ernie Hudson is 72. Chris Matthews is 72. Eugene Levy is 71. Country singer Sharon White of The Whites is 64. Barry Livingston is 64. Bill Pullman is 64. Peter Farrelly is 61. Country singer Tracy Byrd is 51. Duane Propes of Little Texas is 51. Laurie Holden is 48. Sean Patrick Thomas is 47. Sarah Paulson is 43. Giovanni Ribisi is 43. Milla Jovovich is 42. Manny Pacquiao is 39. Shannon Woodward is 33. Emma Bell is 31.
• A Christmas Carol Day. Clean Air Day. Wright Brothers Day. Maple Syrup Day.
---
NUMBER FOR THE DAY
17,000: Parking spaces at The Mall of America in Bloomington, Minnesota.
---
NEWS ATTACK!
Disney has agreed to purchase most of 21st Century Fox. [Under the deal, Bill O'Reilly will return to play Grumpy, and Sarah Palin will return as Dopey.]
Disney has agreed to purchase most of 21st Century Fox. [This makes Disney a truly massive entertainment giant. It's now valued at two, maybe three Bitcoins.]
Texas Congressman Blake Farenthold is quitting over sexual harassment allegations. [He said that he's looking forward to spending more time at home with the kids and their totally hot nanny.]
Police in Philadelphia responded twice to calls that a cow had slipped away from a church Nativity scene. [Well, would you want to spend a winter's night in a manger?]
Alabama's Roy Moore says that he will continue to fight. [I don't know if he's referring to politics or his attempt to be readmitted to the mall.]
A British surgeon has pleaded guilty to assault after he branded his initials on the livers of at least two patients. [I can't afford regular surgery, much less pay extra for the monogramming.]
The second most powerful man in North Korea hasn't been seen in a while. [And in North Korea that doesn't mean that he's on vacation.]
A man has had to delay his retirement after his inheritance check was lost in transit by UPS. [The only way this story could be funny is if the job that he was retiring from was UPS driver.]
The Indiana fertility doctor accused of inseminating patients with his own sperm has been given a suspended sentence. [And several thousand hours of mandatory babysitting.]
---
NEWS & NUGGETS
16-YEAR-OLD LOSES IT WHEN HE SEES NAME ON HARVARD LIST _  (
AUDIO)  Ayrton Little of Louisiana may only be 16, but he already started setting his sights on college. While still attending TM Landry College Preparatory, Ayrton applied to his dream school: Harvard University. In a video he shared on Twitter, Ayrton is seen sitting at a computer, checking on his acceptance status. He's surrounded by classmates who go crazy when Ayrton discovers he's going to Harvard.
INTERNATIONAL STUDENT BERATED FOR SPEAKING KOREAN _ An international student from Seoul, South Korea, was verbally assaulted by a customer at Starbucks in Walnut Creek, California, for speaking Korean. Annie An documented the scene on her phone and later uploaded a video to Facebook. In the post, An says the older woman told her "This is America. Use English only" and "Your language is disgusting." A Starbucks employee defends An's right to speak Korean within the establishment and nicely asks the woman to leave. Instead, she continues to berate An. • VIDEO
… As she tapped a single key on her computer the older woman said, "You're going to be in trouble when I get this letter out," a bystander responds, "You're pressing numbers over and over again." The employee had the cops called and they escorted her off the premises.
OMAROSA HAS SEEN THINGS _  (
AUDIO)  One of Donald Trump's White House aides has gone public with criticism of the Oval Office. The just-fired Omarosa, who appeared on The Apprentice, told Good Morning America Thursday she saw things while working for the president that made her "very uncomfortable" and "unhappy".  She did not deny claims she was concerned by Trump's stance on Charlottesville, where a woman died in clashes with white supremacists, and Roy Moore, the controversial Alabama senate candidate. Omarosa even hinted at producing a tell-all account of her time in the White House, declaring she had "a profound story that I know the world will want to hear".
AIRBUS SPENT 5 HOURS DRAWING A XMAS TREE ACROSS EUROPE _ Airbus used an A380 on a test flight to draw the outline of Christmas tree over Europe. The plane will soon be delivered to Emirates. Instead of charting some arbitrary route, the superjumbo drew the Christmas tree outline over Germany and Denmark. The flight, which took five hours and 22 minutes to complete, began and ended at the Airbus facility in Hamburg, Germany. • IMAGE
SAD: MOTHER OF HEATHER HEYER HAD TO HIDE ASHES _ If you ask Susan Bro, there is plenty of blame to go around for her daughter's death: 20-year-old James Fields; unprepared local authorities; white supremacists; and, yes, even Donald Trump. In an interview with the Daily Beast, Bro says she is "starting to come to [the] conclusion" that Trump is responsible for the death of her daughter, Heather Heyer, "because he definitely pushes forward a hateful agenda."
… Four months after Heyer's death, Bro says threats of violence continue to pour in from extremists. She's had to inter her daughter's ashes in a secret location known only to some family and friends.
YOU CAN ZIP LINE OVER THE MISSISSIPPI DURING THE SUPER BOWL _ February's Super Bowl will take place in downtown Minneapolis — which sits on the Mississippi River. And for attendees of the big game, backpack company XOOX will set up a zip line to run the width of river. It will span more than 800 feet across and hundreds of feet high. The zip line ride will be $30.
TRAVELING WITH GIFTS? BE PREPARED FOR TSA TO UNWRAP THEM _ If you're traveling with gifts, you might want to skip wrapping them. As the TSA points out, wrapped gifts are fine, but they may need to be unwrapped in some cases. The TSA explains: "Our officers try their best not to mangle the gift wrap, but it's not a guarantee and it also slows down the line for everybody else when we have to do this. You can try to avoid this by at least ensuring your gift is a TSA-approved item. However, it's probably best to err on the side of caution and just skip the gift wrap altogether. This way, you don't hold up the line or waste your own time."
FACEBOOK IS TESTING MULTIPLE ACCOUNT LOGINS _ Facebook is testing a feature that would give its users the ability to easily switch between accounts on the same computer. You'll click the image at the top of your page to navigate between accounts. This allows you and your family or friends to more quickly switch between Facebook accounts while using the same computer. You can choose whether or not to save your password for quicker login. If you select Remember my password, you'll remain logged in to Facebook without having to re-enter your password each time you log in. You can also remove saved login information from your account and add extra security.
DALAI LAMA LAUNCHES FREE IPHONE APP _ The Dalai Lama has launched a mobile app for followers to stay up to date with his travels and teachings. The 82-year-old exiled Tibetan spiritual leader already has a Twitter account with more than 16 million followers. His free app offers news, videos, photos and information.
… In 2013 the Roman Catholic Church launched the Pope App, which followed the Confession app where users could keep track of their sins.
WOMEN OVER 85 ARE HAPPIER BECAUSE THEIR PARTNER IS DEAD _ Women become progressively happier as they age, according to a health survey conducted in England. The survey found women have higher rates of poor mental health than men throughout much of their lives, until over the age of 85, when women's overall happiness increases. By then, many women become widows.
JUDGE EXCUSES MAN FROM JURY DUTY AFTER HE REVEALS HE'S IN LOVE FOR THE 'FIRST TIME' _ A judge in Ireland showed he's a softie for romance. The judge is being praised for excusing a 54-year-old man from jury duty after the man revealed he had planned a long weekend away with his partner and it was his 'first time in love'.
REMEMBER THIS? A YEAR AGO THIS WEEK: WHY CAN'T SOME PEOPLE SMELL ASPARAGUS IN THEIR PEE? _ Good job, science! A research team from Harvard used two big studies of 6,900 men and women to find out why some people can smell asparagus in their pee and some can't. They looked through 9 million different genes to see why, and found 871 mutations in the majority of people who cannot smell the effects of eating asparagus in their own urine.
---
WACKY-BUT-TRUE
WACKY-BUT-TRUE: SARCASTIC 'THANK YOU' NOTE GOES VIRAL _ A sarcastic 'thank you' note to a heating company in China has gone viral. The email sent to the heating company and shared anonymously online expressed "gratitude" for forcing the email's author and partner to find alternative sources of warmth. The email reads: "I would like to thank the [company's] CEO for saving a marriage. My husband and I have to hug each other when we sleep, otherwise we would freeze." The author goes on to explain that the couple had been considering divorce and "hadn't even been sharing the same bedroom."
WACKY-BUT-TRUE: FUGITIVE SITS ACROSS FROM DEPUTIES IN RESTAURANT _ Perry County, Kentucky, sheriff's deputies were having lunch at a local restaurant when they spotted a fugitive they'd been looking for — seated directly across from them at  another table. So the deputies let the fugitive finish his meal and then followed him outside to make the arrest.
WACKY-BUT-TRUE: NON-DRINKER CHARGED WITH THIRD DUI _ Chad Donahue of Milwaukee, Wisconsin, was pulled over for allegedly driving 66 in a 35 zone. Donahue showed indications of intoxication and failed field sobriety tests, and his blood alcohol was measured at .2 percent. When asked if he was intoxicated, Donahue replied, "I don't drink." He was charged with drunk driving — his third offense.
WACKY-BUT-TRUE: $60 PANTS COST COUNTY $4,285 _ When a probation officer went to visit a client at her Williamsport, Pennsylvania, home, she ran — and the officer tore his pants chasing her. So he asked the county to reimburse him $60 for the pants. The County Controller refused — and spent $4,285 on legal fees to fight the issue. A judge ordered the Controller to pay the $60, but called it a "fringe benefit" and withheld taxes. And she appealed the ruling, racking up more legal fees.
WACKY-BUT-TRUE: THIEF RUNS OUT OF GAS, ASKS COP FOR HELP _ In Massachusetts a guy snatched a woman's purse as she was coming out of a store. He then made his getaway but didn't get very far before his truck ran out of gas. Leaving the truck on the side of the road, the purse thief walked to the nearest gas station. And on his way back, he hailed down a police cruiser and asked for a lift back to his truck. Police had already been alerted to be on the lookout for the truck, and after seeing the stolen purse on the front seat the thief was placed under arrest.
WACKY-BUT-TRUE: TREE THIEVES LEAVE LICENSE PLATE _ Some guys in Maine stole more than two dozen Christmas trees from a local lot, backing a flat bed trailer up and simply hauling them away. One thing the tree thieves did wrong: They backed that trailer a little too far into a snowbank and when they pulled away they left a license plate behind, stuck in the snow.
WACKY-BUT-TRUE: ROBBERS STOP WRONG TRUCK, GET LOAD OF CHEESE _ In Italy a gang came up with a plan to rob an armored car. They cut down some trees, blocked off a remote country road, and waited for their victims to drive up. Not long after, the truck screeched to a halt at the log barricade. The gang jumped out of their hiding spots and pointed guns at the driver, screaming at him to open the door. The flustered driver did as he was told, but when the gang looked inside, they didn't see the bags of money they were expecting. Instead, the truck was full of cheese. It was the wrong truck.
WACKY-BUT-TRUE: THIEF BROUGHT HIS OWN BRA _ In Japan, a 20-year-old man broke into a woman's home, stole her purse and clothes, and then went to her bank to try to withdraw money from her account. He put on his victim's beige sweater and pale green skirt, plus his own long wig, pretending to be the woman. But the bank teller got very suspicious and called the account holder's phone number to verify the transaction. When the real woman answered the phone and told the teller she'd been robbed, the teller called the cops. When they got him to jail, they made him put on men's clothes and took away the woman's clothing — but he protested that the bra and panties were his. The victim verified that the thief hadn't taken any of her underwear, so the cops let him keep it.
---
ON TELEVISION
FRIDAY

ONCE UPON A TIME (8p ET, ABC) — New.
MACGYVER (8p ET, CBS) — New. The LAPD arrests Mac for terrorism.
BLINDSPOT (8p ET, NBC) — New. The team runs a covert operation out of Jane and Weller's apartment.
HELL'S KITCHEN (8p ET, FOX) — New. The remaining chefs compete in the infamous blind taste test challenge.
THE 86TH ANNUAL HOLLYWOOD CHRISTMAS PARADE (8p ET, CW) — Erik Estrada, Laura McKenzie, Dean Cain and Montel Williams host this annual parade.
HAWAII FIVE O (9p ET, CBS) — Two new episodes air tonight.
MARVEL'S AGENTS OF S.H.I.E.L.D. (9p ET, ABC) — New.
DATELINE (9p ET, NBC) — A new, 2-hour edition
SEASON FINALE: THE EXORCIST (9p ET, FOX) — New. The exorcists must make the ultimate sacrifice to save Andy's life.
CHRISTMAS WITH THE MORMON TABERNACLE CHOIR (9p ET, PBS) — Tenor Rolando Villazon joins the Mormon Tabernacle Choir in this annual holiday special.
RUSH: TIME STAND STILL (9p ET, Showtime) — This documentary follows the Canadian band on their final tour. Paul Rudd narrates.
20/20 (10p ET, ABC) — Repeat
JEAN-CLAUDE VAN JOHNSON (Amazon) — Jean-Claude Van Damme stars in this new comedy series as a version of himself. The show is about a former martial arts movie star, who occasionally works dangerous undercover cloak-and-dagger missions.
WORMWOOD (Netflix) — Oscar-winning documentary filmmaker Errol Morris mixes drama and documentary to tell the tale of the CIA's experiments in LSD-fueled mind-control. Peter Sarsgaard stars as a man who claims that the death of his father was tied to the C.I.A.'s secret experiments.
SATURDAY
I WANT A DOG FOR CHRISTMAS, CHARLIE BROWN (8p ET, ABC) — Christmas special
GOING IN STYLE (8p ET, HBO) — Morgan Freeman, Michael Caine and Alan Arkin star in director Zach Braff's 2017 remake of this 1979 heist comedy.
TEN DAYS IN THE VALLEY (9p ET, ABC) — This Kyra Sedgwick drama returns with 2 new episodes.
SATURDAY NIGHT LIVE (11:30p ET, NBC) — New. Kevin Hart hosts the final episode of 2017 with musical guest Foo Fighters.
SUNDAY

NFL Football schedule.
A CHRISTMAS STORY LIVE (7p ET, FOX) — This three-hour live production will feature Tony winner Matthew Broderick as the grown-up Ralphie Parker. Based on both the movie and the Tony-nominated 2012 Broadway show, this musical event has the narrator (Broderick) looking back on his childhood memories of Christmases spent with his lovably goofy parents (Maya Rudolph and Chris Diamantopoulos). Tony winner Jane Krakowski also stars.
THE SOUND OF MUSIC (8p ET, ABC) — Julie Andrews and Christopher Plummer star in the 1965 musical classic.
WISDOM OF THE CROWD (8:30p ET, CBS) — New
SUNDAY NIGHT FOOTBALL (8:30p ET, NBC) — The 6-7 Raiders play their last home game of the regular season when they host the 7-6 Cowboys.
NCIS: LOS ANGELES (9:30p ET, CBS) — New
MADAM SECRETARY (10:30p ET, CBS) — New
---
ENTERTAINMENT
IN THEATERS TODAY _ Star Wars: The Last Jedi should make more than $200 million across North America and close to $440 million globally.
• Star Wars: The Last Jedi (PG-13) – Having taken her first steps into the Jedi world, Rey joins Luke Skywalker on an adventure with Leia, Finn and Poe that unlocks mysteries of the Force and secrets of the past. Daisy Ridley, John Boyega, Adam Driver, Mark Hamill, Carrie Fisher, Oscar Isaac, Gwendoline Christie, Laura Dern
• Ferdinand (PG) – After Ferdinand, a bull with a big heart, is mistaken for a dangerous beast, he is captured and torn from his home. Determined to return to his family, he rallies a misfit team on the ultimate adventure. Voice cast: John Cena, Jeremy Sisto, Bobby Cannavale
… Opening next weekend: The Greatest Showman (Wednesday), Jumanji: Welcome to the Jungle (Wednesday), Downsizing (Friday), Father Figures (Friday), Pitch Perfect 3 (Friday).
MARK HAMILL RECALLS 'MAKING OUT LIKE TEENAGERS' WITH CARRIE FISHER _ Mark Hamill, who makes a triumphant return as Luke Skywalker in Star Wars: The Last Jedi, recalls "making out like teenagers" with Princess Leia herself — Carrie Fisher. Hamill tells The Guardian: "Carrie and I were attracted to one another, but I knew from previous jobs that it would have been a bad idea. But Carrie and I found pretexts. I remember one time — I'm sure alcohol was involved — we were talking about kissing techniques. I said: 'Well, I think I'm a fairly good kisser. I like to let the women come to me rather than be aggressive.' And she said: 'What do you mean?' Well, next thing you know we're making out like teenagers."
PEOPLE FIRE BACK AFTER TAYLOR SWIFT SAID 2017 WAS BEST YEAR EVER _ After Taylor Swift posted and Insta from London about what a great year she's had, fans fired back. Taylor wrote: "I couldn't have asked for a better year, all thanks to you…" People responded with messages like: "I mean, yeah there were Nazis and white supremacy marches, and families are being [torn] apart, and there were mass shootings, and people are losing health care, but none of that affects me, so 2017 was great!"
WHAT LENNY KRAVITZ REALLY THINKS OF EX-FIANCÉE NICOLE KIDMAN _ One of the reasons Big Little Lies became so successful was due to its amazing cast, but did you know there's a history between Nicole Kidman and costar Zoë Kravitz? In 2003, Kidman was engaged to Zoë's father, Lenny Kravitz. They called the wedding off in 2004 and Lenny opened up about Nicole in the latest issue of The Journal. Lenny says, simply, "Nicole is amazing."
NETFLIX SLAMS FCC's REPEAL OF NET NEUTRALITY REGULATIONS _ Netflix is among the crowd blasting the Federal Communications Commission's decision Thursday to roll back the Obama-era network neutrality regulations, which were aimed at ensuring content companies aren't discriminated against by broadband providers. In a statement, Netflix said: "We're disappointed in the FCC's decision to gut the net neutrality protections that ushered in an unprecedented era of innovation, creativity and civic engagement. Today's decision is the beginning of a longer legal battle. Netflix will stand with innovators, large and small, to oppose this misguided FCC order."
… With the move, internet service providers will no longer be officially barred from blocking content or degrading access to it. They also will have the latitude to sell guaranteed access to content providers. The fear among net-neutrality supporters — including companies like Netflix, Google, Facebook, Twitter and Amazon — is that ISPs could now begin charging new fees to both consumers and content companies to access video and other services. Net neutrality advocates are expected to mount a legal challenge to the repeal.
WOMAN EXPLAINS WHY SHE STREAMED BEE MOVIE 357 TIMES IN YEAR _ There's a simple reason why a woman in the United Kingdom streams Bee Movie nearly every day: Her infant son thinks it's the bee's knees. Gemma Chalmers identified herself as the Netflix subscriber who streamed the 2007 animated movie starring Jerry Seinfeld 357 times in the past year, explaining it's the only movie that keeps her 10-month-old son Jaxson from crying.
… Netflix revealed earlier this week that someone had streamed the movie 357 times between November 1, 2016, and November 2017. The streaming service did not give the name of the user, but Chalmers says she received a series of messages from friends who were certain it was her.
… The Bee Movie data released this week was part of Netflix's year in review. The service also revealed earlier this week that one New Zealand subscriber had watched Adam Sandler's Grown Ups 331 times and 53 users had watched its original movie The Christmas Prince at least 18 days in a row.
MARIO BATALI FIRED FROM THE CHEW _ TMZ reports Mario Batali is officially cut from The Chew. ABC completed its review into multiple allegations of sexual misconduct against the celeb chef and says, "While we remain unaware of any type of inappropriate behavior involving him and anyone affiliated with our show, ABC takes matters like this very seriously as we are committed to a safe work environment and his past behavior violates our standards of conduct."
… Four women claimed Batali had inappropriately touched them in the past, three of whom used to work for him.
DUSTIN HOFFMAN ACCUSED OF SEXUAL MISCONDUCT BY 3 MORE WOMEN _ Three more women have come forward to accuse Dustin Hoffman of sexual misconduct, one of whom was a minor at the time of the alleged incident. Cori Thomas told Variety she was 16 and a classmate of Hoffman's daughter, Karina, in New York at the time of the incident. After the three took a walk in Manhattan, Thomas' parents were supposed to pick her up at a restaurant but instead, Hoffman suggested they all wait at the hotel he was staying at while leaving a note for Thomas' parents at the restaurant.
… Thomas says when they arrived at the hotel, "Either Karina or Dustin suggested that [Karina] should go home" because it was a school night. "So she left, and I was left in the hotel room with him alone." Shortly after Karina departed, according to Thomas, Hoffman went to the restroom. She heard the shower turn on. After several minutes, "He came out of the bathroom with a towel at first wrapped around him, which he dropped. He was standing there naked. I think I almost collapsed, actually. It was the first time I had ever seen a naked man. I was mortified. I didn't know what to do. And he milked it. He milked the fact that he was naked. He stood there. He took his time." Hoffman eventually put on a robe and sat on the bed. He then asked her to massage his feet. She complied.
… Thomas says: "What saved me was that the phone rang, and it was my mother downstairs to pick me up." She didn't tell her mother about the story until decades later.
CURB YOUR ENTHUSIASM RENEWED FOR SEASON 10 _ Curb Your Enthusiasm has been renewed for Season 10. The series returned for Season 9 in October, marking its first set of new episodes since 2011. Production on Season 10 will begin next spring.
THE SIMPSONS PREDICTED DISNEY BUYING FOX 19 YEARS AGO _ The news of Disney's $66 billion merger with Fox has some worried and others excited. But no one should be surprised by the merger — the deal was predicted by The Simpsons 19 years ago. This moment of cultural clairvoyance took place in Season 10 of The Simpsons, in an episode titled When You Dish Upon A Star. Aired in November 1998, the episode included a scene at the offices of 20th Century Fox — described as "A Division Of Walt Disney Co."
48 HOURS REMAKE COMING _ The 1982 action comedy 48 Hrs. is getting a remake. The original film stars Eddie Murphy and Nick Nolte.
ACTRESSES TO PROTEST SEXUAL HARASSMENT BY WEARING ONLY BLACK TO THE GOLDEN GLOBES _ Amid almost non-stop sexual misconduct allegations in Hollywood, a source says that more than thirty female actresses who are attending and or presenting at the 2018 Golden Globes have vowed to wear all black to the ceremony.
… Nominations for the 2018 Golden Globes were announced on December 11. The 2018 Golden Globes will take place Sunday, January 7.
---
AUDIO
Find these audio files on the PRO AUDIO PAGE.
• OMAROSA SPEAKS: Omarosa on Good Morning America.  →  December 15 News & Nuggets
• HARVARD: With his high school classmates by his side, a Louisiana teen learns he's going to Harvard.  →  December 15 News & Nuggets
• MUSIC BED: The Jive Turkeys – Get Down Santa
• STAR WARS: It's time for The Last Jedi. Here's the main Star Wars theme.
• CHRISTMAS: Lots of Christmas drops.
---
INTERPREP PROSHARE
More prep in the Facebook Group.
---
BITS & BREAKS
PHONER PHUN
How are you different now than a year ago?
… Did you lose weight (or lose a spouse)?
… Are you better educated?
… Making more money?
… Did you land a dream job?
… Are you smarter than a year ago? Why?
WHAT SECRET HAVE YOU AND YOUR SIBLING MANAGED TO KEEP FROM YOUR PARENTS?


Start it on Facebook, take it to the phones: What secret have you and your sibling managed to keep from your parents?
A guy shared his sibling secret on Reddit:
We had a huge Chicago snowstorm and got a day off school. My mom still had to go to work but she trusted me to watch over my two little brothers for the day. At the time I was 13 and my brothers were 9 and 5. As soon as she left we decided to go outside to play. My youngest brother and I convinced our middle brother to jump off the roof of our house into a big pile of snow in nothing but his boxers. He climbed up to the roof and started to freak out. We convinced him everything would be fine and with a surprising lack of arm-twisting he belly flopped off the roof. He hit the deep pile of snow and started screaming.
He stood up and his knee looked like raw chicken. There were bloody chunks of meat hanging out of the wound and he was in excruciating pain. The crying wouldn't stop and I knew I was going to be in trouble. We knew mom was going to kill us when she came home so we came up with a plan. He would just need to suck it up for 8 hours and we'd be in the clear.
When mom came home that evening my brother limped to the garage and said he was going to ride his bike to his friend's house. He made it to the end of the driveway, fell over, and started screaming and holding his knee. My mom rushed outside, saw the injury, and took him to the hospital.
15 years later and she still has no idea about the belly flop from the roof.
AMAZING FACTS THAT WILL BLOW YOUR MIND

• Cockroaches are smarter in the evening than in the morning.
• Around the world 269 billion emails are sent each day.
• For every human on earth there are 422 living trees.
• The average cable/satellite subscribers gets 189 channels but watches just 17.
• 40,000 Americans are injured by toilets each year.
• Americans spend $60 billion annually on lotteries.
• There are 41,000 Redbox kiosks across America.
• Philadelphia Cream Cheese is not actually from Philadelphia — it was actually developed in Chester, New York.
---
FUN & GAMES
TRIVIA: Every year, 2.1 billion of these holiday treats are made. (Candy canes)
BREAKFAST BINGO

Five questions. Each answer begins with the corresponding letter in the word BINGO.
• A dessert cake cooked in a pan of the same name. (Bundt)
• The kind of spider that went up the water spout. (Itsy-bitsy)
• Mandela, the former president of South Africa. (Nelson)
• Most Christmas trees are this color. (Green)
• In a court, the judge wants to have what? (Order)
---
VIDEO OF THE DAY
A Nativity scene in an East Tennessee church took a hilarious turn when the little girl playing a sheep decided to play with baby Jesus.
https://www.facebook.com/tana.benson/videos/10105696657734125/
---
IMAGE OF THE DAY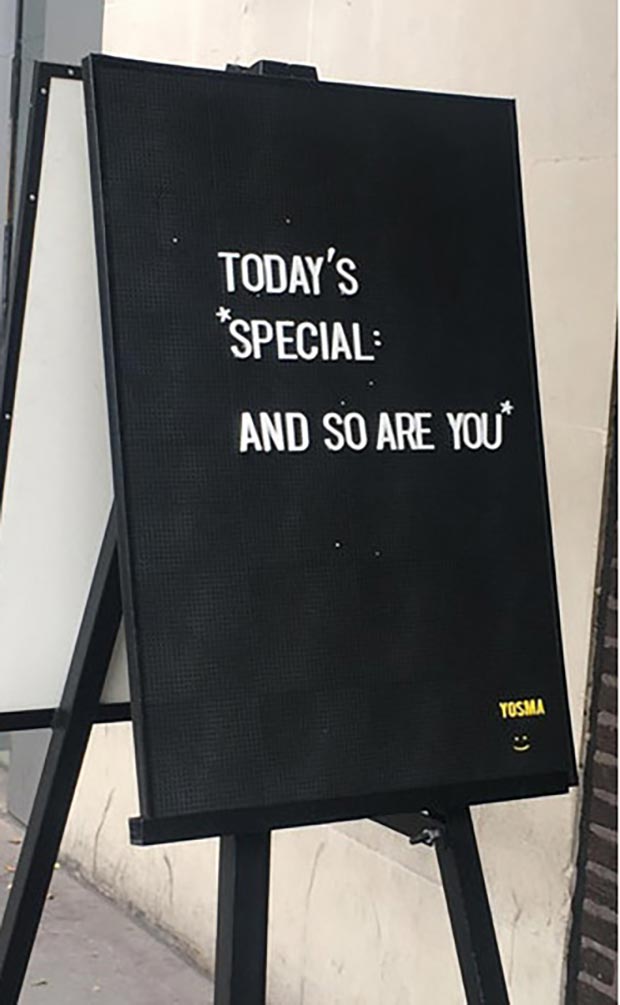 source:
teamjimmyjoe
---
COUNTRY DATEBOOK: DECEMBER 15, 2017
• 1955: JOHNNY CASH's album Folsom Prison Blues was originally released by Sun Records.
• 1986: KENNY ROGERS inked a $17 million deal with Dole Foods to promote their pineapple and other products.
• 1999: SHANIA TWAIN's album Come On Over was certified multi-platinum for sales of 16 million copies.
• 2005: RASCAL FLATTS became the first non-solo male country act to win Billboard Magazine's Artist of the Year award.
• 2006: RASCAL FLATTS became the first country act since 1992 to be the best selling artist in all of music for the year. Their Me & My Gang album sold 3 million copies that year.
• 2013: CHRIS CAGLE was arrested on drunk-driving charges near Greenville, Texas.
• 2013: Numerous media reported the death of RAY PRICE following a Facebook posting by his son. Ray was still alive but in a coma. He passed away the next day.
Doug Phelps of THE KENTUCKY HEADHUNTERS and BROTHERS PHELPS is 57.
ALAN JACKSON and wife Denise celebrate their 38th wedding anniversary.
---
COUNTRY AUDIO
Find these audio files on the COUNTRY AUDIO PAGE.
• FLORIDA GEORGIA LINE on songwriting on the road.
• CARLY PEARCE has a shoe obsession.
• BRETT YOUNG loves Buffalo Wild Wings.
---
COUNTRY MUSIC NEWS
ZAC BROWN BAND will perform the national anthem before the college football national championship game in Atlanta on January 8.
Three country songs make the list of tunes with the most requested lyrics through Amazon's Alexa for 2017. BRETT ELDREDGE places highest on the list at No. 9 with Somethin' I'm Good At, followed by OLD DOMINION's No Such Things As A Broken Heart at No. 10 and TIM MCGRAW and FAITH HILL's Speak To A Girl at No. 12.
KENNY CHESNEY will visit Late Night With Seth Meyers on Monday (December 18).
SCOTTY MCCREERY has recorded a version of 'Twas The Night Before Christmas. It's available on SoundCloud. • LINK
CARRIE UNDERWOOD appears in her first photo since the fall that resulted in a broken wrist. The pic was taken with reality star Adrienne Gang after the pair shared a workout space. Carrie sports a brace on her arm from the fall she took at her home last month, but otherwise looks great. • IMAGE
TRISHA YEARWOOD may be involved in many projects, but she says she will always pick music over anything and everything else.
TRISHA YEARWOOD hints that she has two music projects coming in 2018.
Three country Christmas albums are available on vinyl this year — two for the first time. DARIUS RUCKER's Home For The Holidays and LADY ANTEBELLUM's On This Winter's Night get their first vinyl treatment while REBA MCENTIRE's 1987 album, Merry Christmas To You, is out on vinyl for the second time, marking its 30th anniversary.
THE WEEK'S TOP SINGLES
LUKE BRYAN – Light It Up
BLAKE SHELTON – I'll Name The Dogs
BRETT YOUNG – Like I Loved You
LANCO – Greatest Love Story
ERIC CHURCH – Round Here Buzz
THOMAS RHETT – Unforgettable
MAREN MORRIS – I Could Use A Love Song
RUSSELL DICKERSON – Yours
CHRIS YOUNG – Losing Sleep
GARTH BROOKS – Ask Me How I Know
---
DATEBOOK: DECEMBER 18, 2017
This is day 352 of 2017. There are 13 days remaining.
BIRTHDAYS
• Keith Richards of The Rolling Stones is 74
• Steven Spielberg is 71
• Movie critic Leonard Maltin is 67
• Ray Liotta is 62
• Brad Pitt is 54
• Stone Cold Steve Austin is 53
• Rachel Griffiths (Brothers and Sisters, Six Feet Under) is 49
• Sia is 42
• Josh Dallas (Once Upon A Time) is 39
• Katie Holmes is 39
• Christina Aguilera is 37
IT HAPPENED TODAY
• 1865: The Thirteenth Amendment to the United States Constitution was ratified by Georgia, fulfilling the two-thirds requirement for ratification, and banning slavery in the United States.
• 1932: The Chicago Bears defeated the Portsmouth Spartans 9-0 in the first ever NFL Championship Game. Because of a blizzard, the game was moved from Wrigley Field to the Chicago Stadium, the field measuring 60 yards long.
• 1984: Madonna scored her first number one pop hit with "Like a Virgin."
• 1995: Houston police warned residents that a con man already had sold $25-thousand worth of water he claimed astronauts brought back from the moon. NASA assured police there was no such thing as "moon water."
• 1996: The Oakland, California, school board passed a resolution officially declaring "Ebonics" a language or dialect.
• 1997: Comedian Chris Farley was found dead in his Chicago apartment. He was 33 years old.
• 1999: Environmentalist Julia "Butterfly" Hill came down after living two years in the top of an ancient redwood tree in Humboldt County, California, to protest logging.
• 2004: The U.S. officially forgave all of the $4.1 billion owed the government by Iraq and urged other creditors to do the same.
• 2005: A motorist ran over the Nativity scene at a church in Watsontown, Pennsylvania. Sadly, the same thing happened the year before.
• 2006: Secretary of Defense Donald Rumsfeld resigned; Robert Gates was sworn in as the new Secretary of Defense.
• 2012: Signatures on an online card for Sandy Hook Elementary shooting victims surpassed 1 million.
SPECIAL EVENTS
• Answer The Telephone Like Buddy The Elf Day
• International Migrants Day
• Bake Cookies Day
• "I Love Honey" Day
UPCOMING
• December 21: First day of winter
• December 23: Festivus
• December 24: Christmas Eve
• December 25: Christmas Day
• December 26: Kwanzaa
• December 31: New Year's Eve
• January 1: New Year's Day
• January 1: Rose Bowl and Sugar Bowl (college semis)
• January 1: Supermoon: the first of 2018
• January 6: NFL Playoffs begin
• January 8: College football championship
• January 13: NFL Divisional Playoffs begin
• January 23: Oscar nominations announced
• January 30: State of the Union
• January 31: Total lunar eclipse/blood moon
• February 2: Groundhog Day
• February 4: Super Bowl 52
• February 8: New York Fashion Week begins
• February 9: Winter Olympics Opening Ceremony
• February 13: Mardi Gras
• February 14: Valentine's Day
• February 16: Chinese New Year – Year of the Dog
• February 19: President's Day